Robert L. Fallows, My Uncle Bob: 1922-2016.
Editor's Note:
This article previously appeared in a different format as part of The Atlantic's Notes section, retired in 2021.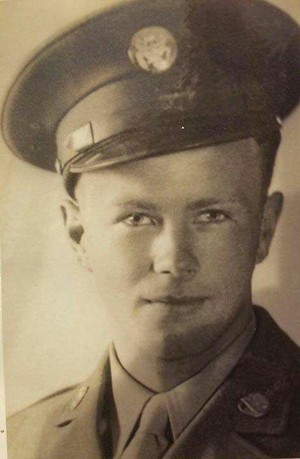 Eight years ago I mentioned that a run of very public news—the deaths of prominent figures, plus a presidential election with all its consequences—coincided with news of great significance to a limited number of people. That was the death at age 83 of my father, who spent most of his working life as Dr. James A. Fallows of Redlands, California. (My mother, Jean Mackenzie Fallows, had died a few years earlier.)
When growing up my dad had been one of the two Fallows boys of Jenkintown, Pa. His brother Bob, was three years older—old enough, at 19, to join the surge of enlistments after the Pearl Harbor attack 75 years ago. My uncle Bob was on active Army duty from the summer of 1942 through the end of the war. He then returned and soon married his high school sweetheart Alice Heller.
Recent weeks have seen another run of very prominent public deaths, and another extremely consequential shift of presidential power. And they have again brought news of significant impact within a limited circle: Bob Fallows's death this month, at 94.
The news naturally matters to me just because I knew and loved Uncle Bob, Aunt Alice, and their family. But I mention it, as I did with my dad, because of the example of locally important personal, family, and civic virtue these brothers in their different ways set.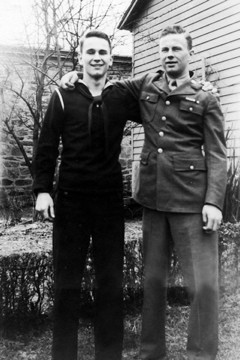 ***
Before the war, Bob Fallows had been a very good student, especially in math, but was also famous as a football and basketball champion at Jenkintown High School. After the war he went to Penn, where he studied finance and was on the varsity basketball team. I can't find a way to confirm this at the moment, but my recollection is of going with him to a Penn-versus-somebody game at Penn's Palestra basketball arena in the late 1960s, and noticing a plaque with his name as the many-year holder of the school's free-throw shooting record. As I already knew, from childhood games of H-O-R-S-E with him, he used the old-style, pre-Rick-Barry underhand free-throw shooting motion, and he practically never missed. Seeing the contrast between my dad and him—both of them avid and successful team-sports and individual athletes, but my dad someone who visibly worked at it while Bob somehow made it all look effortless—was an early introduction to the idea of natural athletic grace. Into his 70s and 80s Uncle Bob remained active in Senior Olympic-type activities, winning medals in both speed and skill events.
His army service made up a relatively short period of his life, and he was not one to regale people with war stories. But we learned that his experience had been varied and intense. He was in the Corps of Engineers and first worked in Alaska and British Columbia designing and building the ALCAN highway. Then he was sent to Europe, where his unit was in action in Bastogne, at the Bridge at Remagen, and on into Germany. Although they were engineers, they were in the middle of combat. He received U.S. decorations and the French Legion of Honor for his service; next week he will be buried with military honors in the Washington Crossing National Cemetery not far from Trenton.
Most of his life was spent raising his family, mainly in a big, gracious old stone farm house in Southampton, outside Philadelphia; running his gas-station business in Willow Grove; attending to his parents and numerous other relatives in the area; being active in his church and the local Rotary; traveling widely with his beloved wife Alice, whom he met as a teenager and who survives him; and generally being the kind of person who felt it his responsibility to care about and sustain the people and groups around him.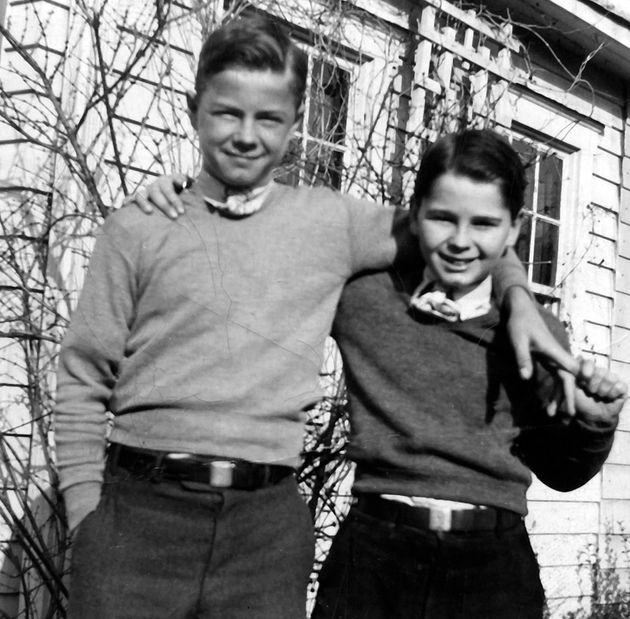 He and my dad, close and also competitive as brothers, had many differences as adults. My parents moved to the other side of the country from where they started; Bob lived most of his life within a few dozen miles of his origins. Both brothers grew up in a politically, culturally, and religiously conservative household. Bob and his family maintained many of those views; my dad, decreasingly so. But they remained close, and both brothers shared the great fortune of finding very early, in their hometown of Jenkintown, the right life partners. My mom and dad met in grade school and got married when she was 20 and he was 22. Bob and Alice met before he went off to war and were married soon after he came home. I believe they reached their 70th wedding anniversary.
Uncle Bob's final few years were difficult, as Aunt Alice's are now. But he (and she) had an extraordinarily long record of living, day by day, the values many people talk about. I note his passing because he meant so much to our family and to me, and also because of a reason I mentioned when explaining why I had talked about family losses on a Fresh Air show eight years ago:
As I fumbled to explain [to Terry Gross] in real time, part of my instinct in making a private matter public was the sense that people with the virtues of my parents -- talented, loving, curious, hopeful people who poured their heart and effort into the betterment of their small community and the well-being of their family -- deserve more celebration than they typically get, precisely because they have chosen not to operate on a broad public stage. My parents were very well known in our home town but unknown outside of it. It gave me heart to think that people who had never encountered them might hear something about the lives they led.
***