The Atlantic Daily: Attack in Bangladesh, U.S. Airstrike Toll, Lynch and Clinton
Gunmen take hostages in Dhaka, the Obama administration estimates its civilian casualties, the U.S. attorney general won't interfere in the email case, and more.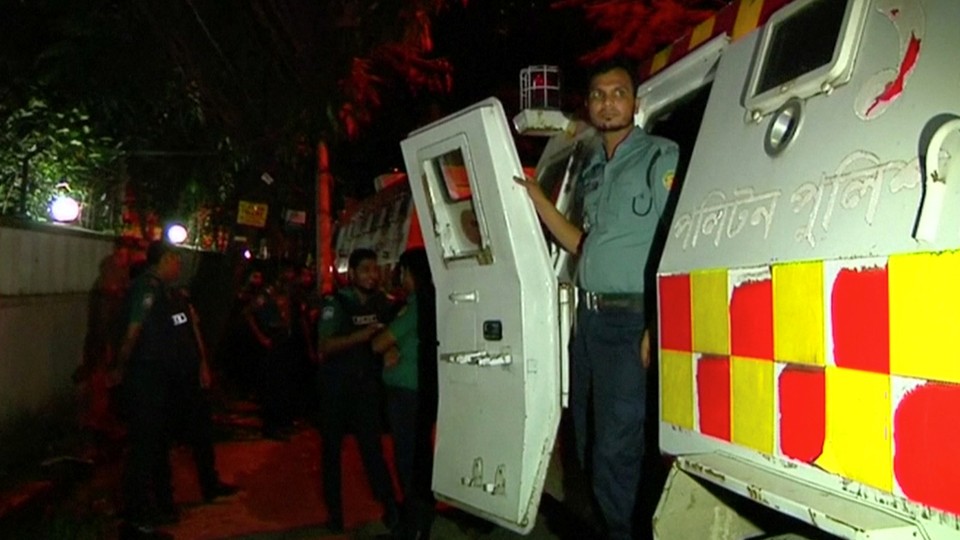 What We're Following: Terror in Dhaka
A group of gunmen took multiple hostages at a restaurant in the Bangladeshi capital on Friday, killing at least two police officers in the process. The incident occurred in the diplomatic quarter less than a mile from the U.S. embassy and other international facilities. ISIS has claimed responsibility for the attack
An American Toll: U.S. officials estimate U.S. airstrikes killed between 64 and 116 civilians outside active war zones between 2009 and 2015, the White House said Friday. The numbers are the first official estimate of civilian casualties from military operations under the Obama administration. Many non-governmental organizations had previously reported higher figures.
Lynch's Emailgate Role: U.S. Attorney General Loretta Lynch said Friday she would defer to career FBI and Justice Department officials on whether any criminal charges in the investigation into former Secretary of State Hillary Clinton's email server. Lynch came under criticism from Republicans for briefly speaking with Clinton's husband at an airport in Phoenix on Thursday. She also declined to recuse herself or appoint a special counsel in the case.
---
Snapshot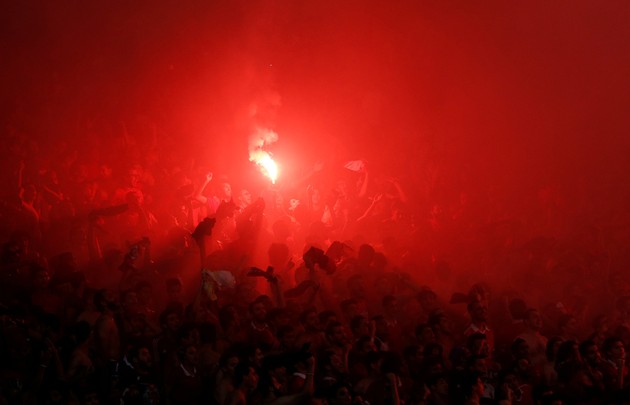 ---
Quoted
"Like math and reading, like science, social studies, and the arts, diversity is no longer a luxury." —John King, the U.S. education secretary
"There's a very narrow doorway through which big ideas get to audiences." —Chris Jackson, editor-in-chief of Random House's One World imprint
"People are on their best behavior when they think this relationship will be a happy one in the future." —Edward Lemay, a professor of psychology
---
Evening Read
Who will control Colombia's cocaine? J. Weston Phippen writes:
The cease-fire between the Colombian government and the Revolutionary Armed Forces of Colombia (FARC) ended a 50-year war that killed 250,000 people, and displaced 6 million, a population twice the size of Chicago. Barring the unpredictable, the 8,000 FARC soldiers who have lived and killed in the jungle will soon put down their weapons and relinquish control of 60 percent of the world's most-productive coca crops.

It's unclear what exactly will happen to the coca fields when FARC leaves. The government hopes the Marxist guerrilla group will help farmers transition from coca to another crop, leading to a tranquility that's been absent from rural Colombia since bands of poor farmers fled to the mountains in 1948. But FARC's absence could also create a vacuum that any number of other criminal groups already in the jungle may seek to fill, giving rise to more violence.
Continue reading here.
---
News Quiz
1. Newfoundland's sole regiment at the ________________ suffered nearly 100 percent casualties.
(Click here or scroll down for the answer.)
2. U.S. postsecondary students collectively hold roughly $_____________ in debt.
(Click here or scroll down for the answer.)
3. 80 percent of Americans in a 1957 survey thought people were ___________ because they were "immoral," "sick," or "neurotic."
(Click here or scroll down for the answer.)
---
Reader Response
What makes a man or a woman? A reader writes:
On one hand, we are told that gender is simply a social construct; that there is no such thing as a "male brain" or "female brain," as we all exist on a spectrum; and that we should break out of the rigid "binary" modes of thinking about male and female, allowing for a broader range of personal expression. This makes some intuitive sense: Men should be able to enjoy ballet and poetry and child-rearing without being cast as effeminate and unmanly, just as women who eschew oppressive standards of feminine beauty and sexuality are still women. A man or a woman is simply one who possesses male or female chromosomes and (except in rare cases) the corresponding sex organs.
Keep reading here.
---
Verbs
Somme centenary remembered, Antarctic ozone loss reversed, giant swimming venomous centipede discovered.
---