The Atlantic Daily: Trump v. Curiel, Jobs Report Woes, FIFA's Bonuses
The candidate renews his attacks on a federal judge, May's jobs numbers disappoint, investigators reveal $80 million in secret bonuses, and more.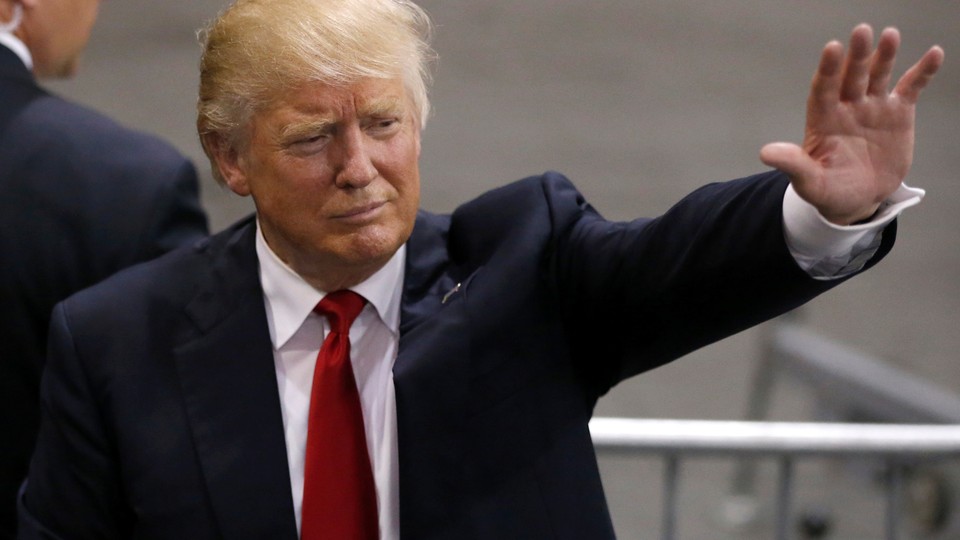 What We're Following: "An Absolute Conflict"
Presumptive Republican presidential nominee Donald Trump escalated his attacks on federal judge Gonzalo Curiel, calling on the judge to recuse himself because he is "of Mexican heritage," Trump said Thursday night. Curiel is presiding over the Trump University class-action lawsuits; he is from Indiana.
May Day: The U.S. economy added a disappointing 38,000 jobs in May, the Labor Department announced Friday. The numbers fell far short of economists' estimates of 158,000 jobs. Labor Department estimates also revised the number of jobs added in March and April downward.
FIFA's Funds: A group of top leaders in FIFA paid themselves tens of millions of dollars in secret bonuses and salary increases, investigators revealed Friday. Former FIFA President Sepp Blatter and two other executives allegedly approved up to $80 million in bonuses for each other. All three men have either been suspended or fired from the organization.
---
Snapshot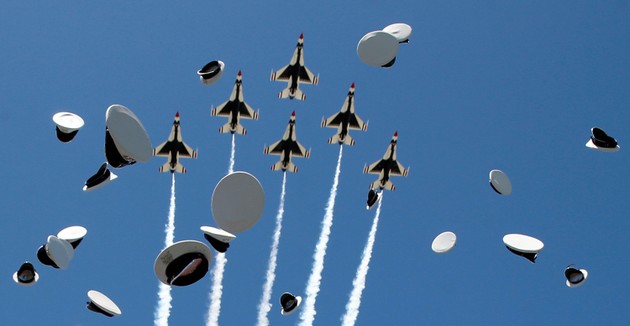 ---
Quoted
"Maybe it's producing some kind of weapon." —what Tradd Cotter, a mushroom farmer, thought when he noticed an unusual pattern of fungus growth
"How do you talk about bullying, empathy, active listening in a way that's not preachy and not corny? I wrote it like I was writing for my peers." —Ike Ramos, who writes educational rap songs for kids
"When you put your fingerprint on the phone, you're actually communicating something. You're saying, 'Hi, it's me. Please open up.'"—Al Gidari, a lawyer who specializes in technology
---
Evening Read
Doualy Xaykaothao on what it's like to be both Midwestern and Hmong:
Nou Vang Thao, now in his mid-50s, was a young guerrilla foot soldier for the CIA, along with his father, uncles, and relatives. They risked their lives for a U.S. cause and allowed many American soldiers to return home to their families. … Forty years ago this year, Thao and his relatives were the first Hmong family to be sponsored by a  Lutheran church in Wausau, Wisconsin. Tens of thousands of Hmong followed, direct from Thai refugee camps. Thao embraced the small, scenic city of Wausau as his new home. The area was mainly a dairy-farm community that was also known nationally for its paper mills and insurance company. Thao loved the Wisconsin River, which split the city in half. He wanted to love the people, too, but the locals didn't exactly welcome him. Despite being a war veteran, many people confused him with the enemy—assuming he was Vietnamese or, worse, Viet Cong. Thao says he sometimes had to remind people he fought for freedom, not communism. "Even today," he said. "People don't know why the Hmong are in Wisconsin, and coworkers, they don't care to know why we are here. We couldn't stay in our country because of our involvement with the white man. We've given Americans 100 percent of our heart, but they've only given us 20 percent."
Continue reading here.
---
News Quiz
1. Ten ____________ will compete on their own team at the Rio Olympics this year.
(Click here or scroll down for the answer.)
2. Supreme Court justice Louis Brandeis predicted the ______________ of 1929.
(Click here or scroll down for the answer.)
3. Deaths from _____________ have risen 137 percent since 2000.
(Click here or scroll down for the answer.)
---
Reader Response
What's been your greatest financial struggle? One reader writes:
Supposedly I did everything right. I worked hard to be the first person in my family to graduate from college. I did so with only $3,000 in student loans. I took several internships and kept a part-time job all while going to school full time. I got a job at a hip company right out of college. Everything went right.

Except the pay isn't great, because, hey, I don't have any experience. So I answered an ad on Craigslist for a roommate to save money. By the end, there had been people on my couch running from the cops, multiple cockroaches on my pillow, and my "landlord" saying it wasn't her problem that I didn't like bugs. So I moved out. Except the rent and utilities to go to this job cost me half my income.

I end up just making ends meet. And it's like, why did I work so hard then? Wasn't college and working hard supposed to get me somewhere? I'm just as broke now as my family was when I was a kid.
Read more here.
---
Verbs
Microbial civilization discovered, Paris flooded, cosmic expansion hastened.
---