The Atlantic Daily: Trump's Money Woes, A Congressman Convicted, Jordan Bombing
The presumptive Republican nominee is short on campaign cash, Chaka Fattah is convicted of racketeering and money laundering, a car bomb on the Syrian border kills 6, and more.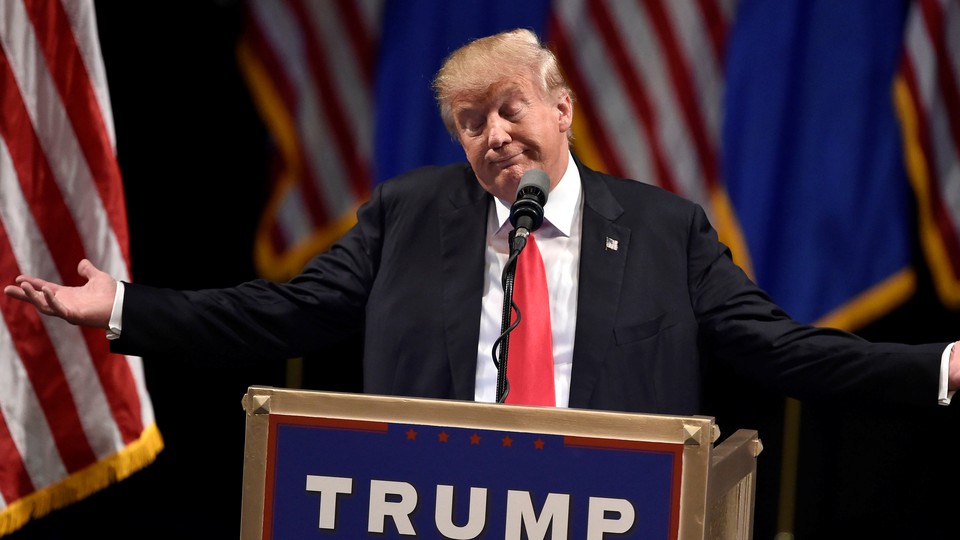 What We're Following
Money, Money, Money: Donald Trump's presidential campaign had only $1.3 million on hand at the end of May, a drop from $2.4 million at the start of the month, according to FEC filings on Monday. His dismal fundraising numbers put him far behind Democratic rival Hillary Clinton, who closed May with $42.5 million on hand, up from $30.2 at the start of the month.
Congressman Convicted: A federal jury convicted Chaka Fattah, a longtime Democratic House member from Pennsylvania, on racketeering and money laundering charges Tuesday. Prosecutors said Fattah directed federal grants to consultants to help repay an illegal $1 million campaign loan. A sentencing hearing is scheduled for October.
An Explosion in Jordan: A car bomb killed six Jordanian soldiers on the country's border with Syria on Tuesday and injured 14 others. The explosion struck between a Syrian refugee camp and a Jordanian military post along the guarded but generally peaceful border. No organization has yet claimed responsibility for the attack.
---
Snapshot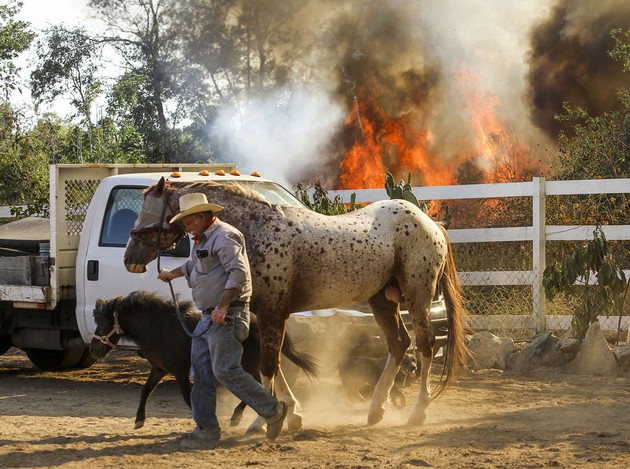 ---
Quoted
"Migration is the engine of the whole goddamned system." —Arthur Middleton, an ecologist, on how elk affect the ecosystem in Yellowstone National Park
"Military guys, police, ambulances were going up and down the street like chickens without heads." —Malcolm Albert, who lives in Sierra Leone, on life during the Ebola outbreak
"An argument that doesn't really work very well is to sound like some kind of crazy American talking about the First Amendment. They just don't care." —Jimmy Wales, the founder of Wikipedia, on pitching the site to Chinese authorities
---
Evening Read
In our latest cover story, Jonathan Rauch explains how American politics went insane:
Trump …  didn't cause the chaos. The chaos caused Trump. What we are seeing is not a temporary spasm of chaos but a chaos syndrome.

Chaos syndrome is a chronic decline in the political system's capacity for self-organization. It begins with the weakening of the institutions and brokers—political parties, career politicians, and congressional leaders and committees—that have historically held politicians accountable to one another and prevented everyone in the system from pursuing naked self-interest all the time. As these intermediaries' influence fades, politicians, activists, and voters all become more individualistic and unaccountable. The system atomizes. Chaos becomes the new normal—both in campaigns and in the government itself.
Continue reading here.
---
News Quiz
1. Only 8 percent of New York City educators are ______________.
(Click here or scroll down for the answer.)
2. The Netherlands is launching a pilot program for ______________ next year.
(Click here or scroll down for the answer.)
3. Astronauts from ________ are known as taikonauts.
(Click here or scroll down for the answer.)
---
Reader Response
What's the biggest religious choice you've faced? A reader who grew up going to a Southern Baptist church writes:
Really, the biggest and most difficult decision was to let go of the idea that everything in the Bible was intended to be taken literally. … Suddenly I didn't have to deny the science pointing away from a 6,000-year-old Earth, I didn't have to struggle through another unhappy relationship with a man, and my once-a-year-Catholic relatives and agnostic friends weren't going to hell. …

My parents find it odd that I'm the most overtly religious of their kids, yet am also not a Republican, and I'm openly gay. I hope to be a good example of how one can let go of literalism yet still enjoy a deep faith. Being able to let go of the threat of hell, I realized that non-Christians, feminists, and science gifted me a faith that truly feels rooted not in fear, but love.
Read more here.
---
Verbs
Egyptian island sale nullified, Western United States scorched, "Mississippi Burning" investigation closed.
---