The Atlantic Daily: Istanbul Suspects, Transgender Military, Post-Podcast Trial
Turkish police investigated the deadly airport attack, the U.S. allowed trans people to serve openly, the sentence of a well-known murder convict was vacated, and more.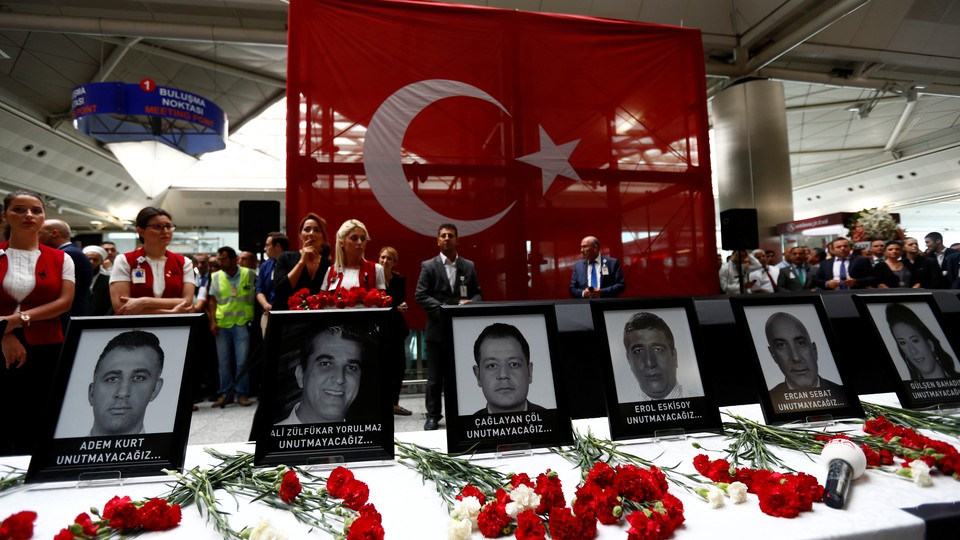 What We're Following: TK
Who Was Behind the Ataturk Bombing? More details are emerging about the perpetrators of the attack at Istanbul's main airport that left 42 people dead and more than 200 injured. Turkish media, citing government officials, say the suspects were from former Soviet Union states—Russia, Kyrgyzstan, and Uzbekistan. Police are conducting raids in buildings across the city as funerals begin for the victims.
A Historic Day for Trans Rights: The U.S. military ended its longtime ban on transgender members, allowing trans people to serve openly for the first time in U.S. history. Transgender people already serve in all five branches of the military, but they are recognized by their gender at birth, and are required to adhere to uniform standards of that gender. The decision throws out rules that considered trans people physically and psychologically unfit to serve.
The Power of the Podcast: Adnan Syed, the Maryland man and murder convict at the center of the popular, true-crime podcast Serial, has been granted a new trial. Syed was convicted in 2000 of strangling his 18-year-old ex-girlfriend and sentenced to life plus 30 years in prison. The Serial podcast, though inconclusive, brought many questions about his trial—like why investigators hadn't talked to a classmate who could have provided an alibi—to the public's attention.
---
Snapshot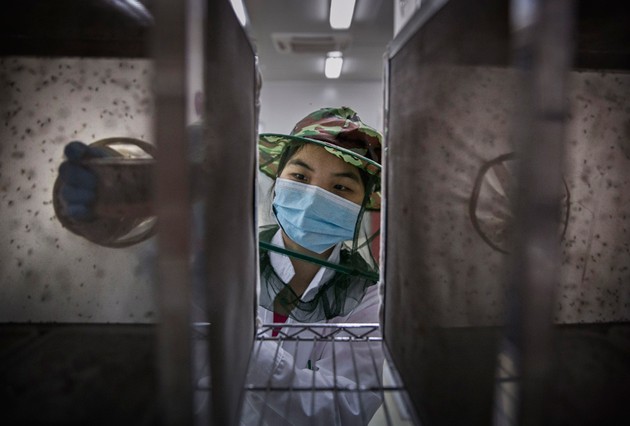 ---
Quoted
"We've got Europe in our DNA; half my family are French, we've got staff here on an EU visa, and some of us are the children of immigrants. I wanted something to cheer us up." —John Kershaw, who created a dating app for Brits who voted to remain in the European Union
"To me food is kind of that oral tradition. It's something that can be lost if we don't take the time to focus on it." —Ben Jacobs, owner of Tacobe, a Native American restaurant
"My parents worked in manufacturing all their lives, and back in the day, they made a lot more. But we're still kind of stuck in the middle like everybody else." —Kyle Olli, a Wisconsin resident
---
Evening Read
Michael Shurkin gives a brief history of the assault rifle:
The assault rifle is a class of weapon that emerged in the middle of the last century to meet the needs of combat soldiers on the modern battlefield, where the level of violence had reached such heights that an entirely new way of fighting had emerged, one for which the existing weapons were a poor match. The name "assault rifle" is believed to have been coined by Adolf Hitler. Toward the end of World War II, the story goes, Hitler hailed his army's new wonder weapon by insisting that it be called not by the technical name given it by its developers, the Machinenpistole (the German name for a submachine gun), but rather something that made for better propaganda copy. A Sturmgewehr, he called the new gun: a "storm" or "assault" weapon.
Continue reading here.
---
News Quiz
1. Nearly half of Americans say discrimination against __________ is as big of a problem as discrimination against other groups.
(See answer or scroll to the bottom.)
2. U.S. presidential candidate __________ reportedly eavesdropped on phone calls in the mid-2000s.
(See answer or scroll to the bottom.)
3. A husband-and-wife architect team will design Barack Obama's future presidential library in __________.
(See answer or scroll to the bottom.)
---
Reader Response
A woman shares her concerns over the need for psychologically safe places for certain cisgender women, as part of our ongoing series on transgender rights:
On a recent vacation, I was at a swimming pool with my daughter. When I entered the women's change room after exiting the pool, I discovered a middle-aged man undressing in front of the locker adjacent to mine. It is not clear what the man was doing in the women's locker room. It seems likely he was there in error, since the pool was about to close, and there were no other patrons whose presence might have tipped him off. It is somewhat less likely that he identified as a woman.

Either way, I promptly turned around and left, as I was not about to undress in the presence of a biological male. This is not because I fear being physically or sexually assault per se, nor is it motivated by any personal animus or hostility. I simply do not wish to subject myself or my daughter to the male gaze while in a state of undress.
Keep reading here.
---
Verbs
Antarctic ozone hole healed, raw cookie dough-eaters warned, Frozen-themed prosthetic arm 3D-printed, chocolate takeover rejected, styrofoam banned.
---