Editor's Note:
This article previously appeared in a different format as part of The Atlantic's Notes section, retired in 2021.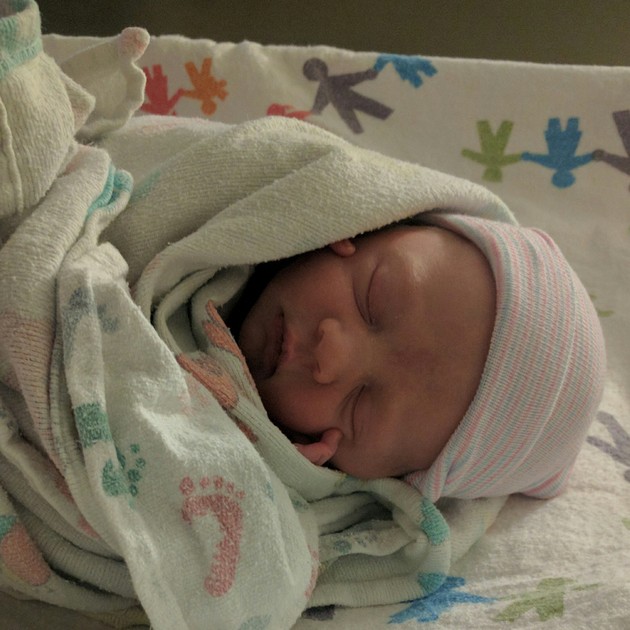 And then there were four! Please welcome young Navy Bennett Fallows, who was born late last night, May 19, in San Francisco. You see her above, freshly swaddled, not long after her debut on Earth.
Navy made her appearance at 6 pounds, 6 ounces, and one day into her lifespan she is doing well. Her parents, our son Tom and his wife Lizzy Bennett Fallows, are of course very tired but also of course very happy, as are we.
As I noted nearly two years ago on the arrival of Navy's sister, Tide Mackenzie Fallows, Tom and Lizzy love and live around the water and have accordingly been inspired in choice of names. There's also a Navy background in various branches of the family trees. The names Tide and Navy immediately suit both girls.
Previously in this series: Welcome Jack Fallows in August, 2011; Welcome Tide Fallows, in June, 2014; and Welcome Eleanor Fallows, in February, 2015. Jack and Eleanor, with their parents Tad and Annie, now live in Dallas; Tom and Lizzy, plus Tide and Navy, are in San Francisco for the foreseeable future.
Back when Mitt Romney was beginning his run five or six years ago, I remember seeing a picture of him surrounded by a horde of grandchildren. I thought at the time, what would that be like? Going from zero to four in less than five years, we're on our way, and what it is like so far is very nice.
Congratulations to mother, father, big sister, aunts and uncles, cousins, other grandparents and forebears, and lovely little Navy.
Update Big and little sister, on arrival home from the hospital today: