The Big Stories We Covered This Week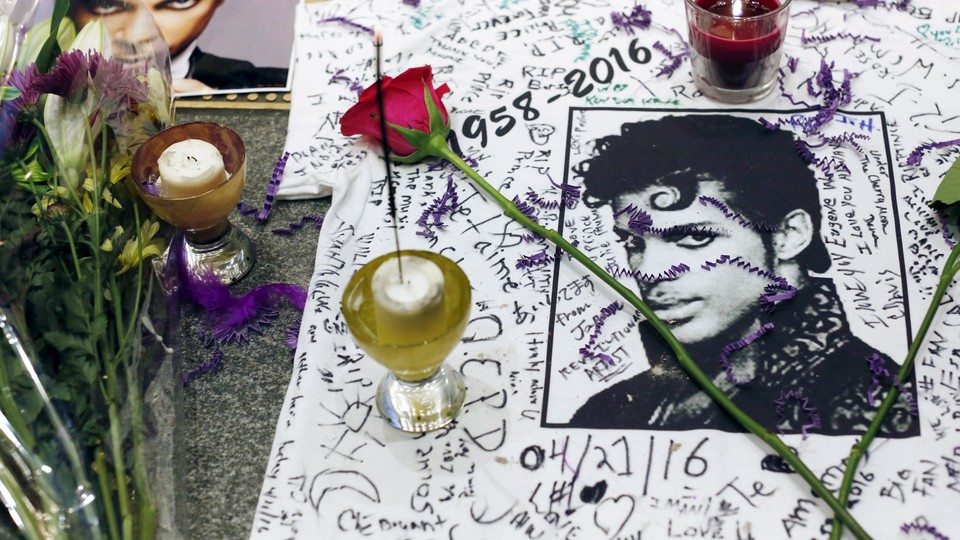 Editor's Note:
This article previously appeared in a different format as part of The Atlantic's Notes section, retired in 2021.
Money, Money, Money
In our latest cover story, Neal Gabler takes a look at the cash-strapped middle class, offering the startling statistic that 47 percent of Americans would struggle to come up with $400 for an emergency. It's something Gabler knows all too well—he's one of them.
Leading scholars weighed in on Gabler's piece, while readers offered their own stories of financial struggle. "I have friends whose fertility I know more about than their finances," Rebecca wrote in her callout for reader submissions.
The rest of our May magazine can be found online here. Darhill also offered a behind-the-scenes look at how the cover art came to be in our Notes section.
Purple Tears
Musical legend Prince died at his Paisley Park home in Minnesota on Thursday. He was 57.
Tributes poured in from celebrities and fans alike. His albums surged to the iTunes Top Albums chart. The Broadway cast of "The Color Purple" sang "Purple Rain" in his honor. Even the president offered his condolences. Spencer reflected on Prince's extraordinary life and  "how deeply important iconoclasts"—like Prince and David Bowie—"are to the evolution of a culture." And Sacha recalled attending a Prince concert in New York back in 1984.
"One thing I've appreciated about Prince, as I've aged," wrote Ta-Nehisi back in 2009, "is that he knows how to sing about sex, like a man honestly singing about sex."
Empire State of Mind
For this week, at least. The 2016 presidential candidates—Republicans and Democrats alike—descended on the state for Tuesday's primary election contest. Republican frontrunner Donald Trump pulled in yet another win, with Ted Cruz coming in at less than 15 percent. And Hillary Clinton broke Bernie Sanders's winning streak, opening up questions about his campaign going forward. (Get full play-by-play of everything that happened Tuesday here.) "It's going to be Hillary Clinton's nomination," David Frum wrote after the dust settled. "But it's not going to be her party."
Meanwhile, some voters reported technical issues, while "tens of thousands of Brooklynites learned they'd simply been purged from the voter rolls altogether."
Tubman on the Twenty
The Treasury Department announced Wednesday it plans to remove Andrew Jackson from the $20 dollar bill, replacing him with Harriet Tubman.
Some rejoiced, others had mixed feelings about the news: "Here is a woman who fought that with everything she had. How would she feel about being the new face of inclusive capitalist imagery?" Shuana wondered. Four of our writers—Adrienne, Juleyka, Shauna, and Gillian—discussed that and more in a roundtable on the topic.
Eleven Things You Shouldn't Miss
Talk Back
We're still looking for readers to weigh in on:
Email your responses to hello@theatlantic.com.