The Big Stories We Covered This Week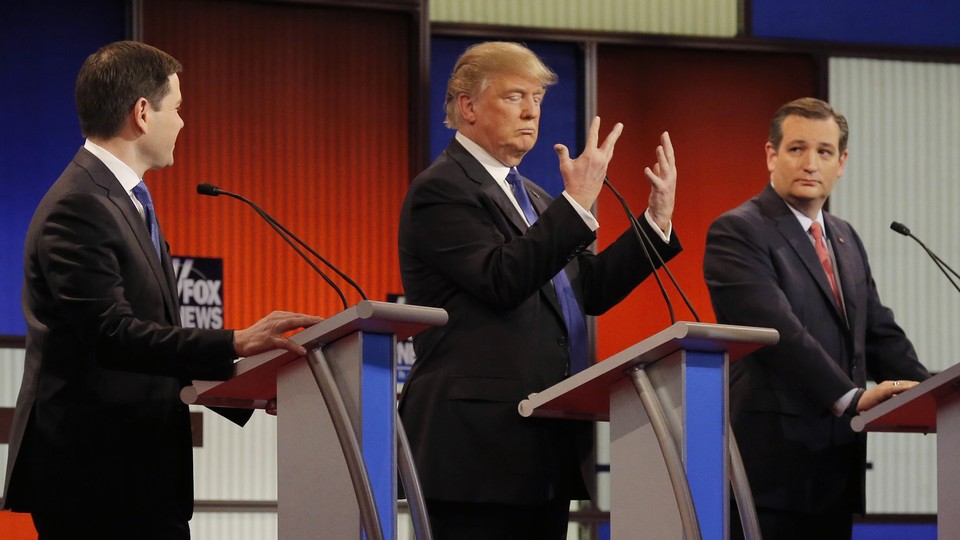 Editor's Note:
This article previously appeared in a different format as part of The Atlantic's Notes section, retired in 2021.
Orange you glad it's Friday?
Just When You Thought It Couldn't Get More Dramatic …
Donald Trump and Hillary Clinton emerged as the victors of Super Tuesday. Their rivals made no indication of dropping out of the race, except for Ben Carson. Trump's win appeared to instill fear among the Republican establishment, prompting Mitt Romney to denounce him. But will it work?
The GOP debate offered further evidence of a divided party as Marco Rubio, Ted Cruz, and Trump pulled no punches against one another, while John Kasich avoided the fray.
Abortion Case Hits the Highest Court
The Supreme Court heard oral arguments in Whole Woman's Health v. Hellerstedt. Garrett wondered whether the court would deadlock and if the justices "would take precedent seriously on abortion." Olga investigated what would happen if the clinics closed and then delved into the controversial history of abortion, while Stephanie Russell-Kratft looked at whether abortion rights are a matter of religion freedom. Meanwhile, our reader series of abortion stories got many new additions this week.
One Nation, Underwood
It's baaaaaaack: House of Cards. Spencer live-blogged his binge, with episode-by-episode reviews (spoilers throughout).
Did you miss the Oscars? Here's Spencer on Chris Rock's monologue push for diversity and David on why the show's low ratings shouldn't matter.
242,000
That's the number of jobs the U.S. economy added in February. Still, millennials continue to feel the effects of the recession, and Gillian investigated whether they can "undo" the damage. Derek argued that "making America great again is a local job."
Eleven Things You Shouldn't Miss