The Big Stories We Covered This Week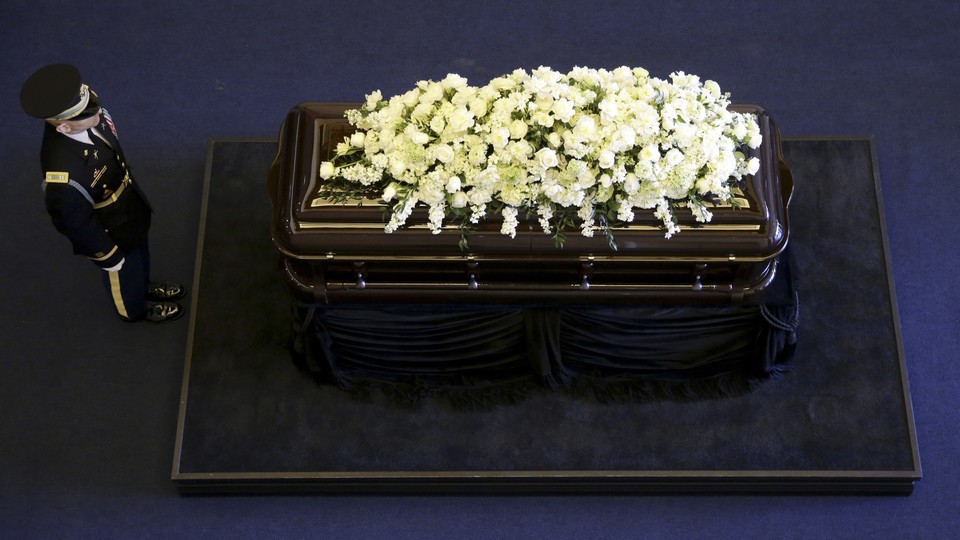 Editor's Note:
This article previously appeared in a different format as part of The Atlantic's Notes section, retired in 2021.
Everyone Goes to Miami
Michigan, Mississippi, Idaho, and Hawaii turned out to vote; Trump and Clinton added to their overall leads. But the big surprise of Tuesday's elections was Sanders's narrow win in the Wolverine State, less than 24 hours before he and Clinton took the debate stage in Miami. There, the two also revealed their separate approaches to Latino voters, many of whom are expected to head to the polls in Florida next week. But whose message will work?
Miami was also the site of the Republican debate, where Trump offered vague generalities that speak to his appeal as a candidate. Ahead of the March 15 primary, Rubio's campaign is proposing to stop Trump—who received the endorsement of Carson—with the help of Kasich's campaign, but they're not on board.
Forecast: April Showers  
We posted a couple of pieces from the April issue of our magazine online—including Jeffrey Goldberg's cover story on Obama's foreign policy legacy. Yoni noted Goldberg's use of a Star Trek term, while Uri analyzed Obama's Batman reference. And Krishnadev looked at how Britain is reacting. We also published reaction pieces from David Frum, Julia Ioffe, Andrew J. Bacevich, and Shadi Hamid.
If foreign policy isn't your cup of tea, the magazine also offers a preview of Ta-Nehisi's new Black Panther series for Marvel.
Be Careful What You Eat
A new study suggests half of the calories Americans gobble down is from "ultra-processed foods," Julie reported. She also reported on a new study about water and weight loss, as well as flashing back to the history of "Americanitis."
On a Lighter Note ...  LOL
No, literally—Megan wrote about the acronym and its use. She also covered the (unrealistic) way Claire Underwood's stilettos seem to be permanently glued to her feet and "the radical democracy of the reaction video."
Here are some things we reviewed in our culture section: Sara Baume's book Spill Simmer Falter Wither, Fox's New Girl without its leading lady, the second season of NBC's The Carmichael Show and the new movie 10 Cloverfield Lane.
Questions Are Out, Answers Are In
Q&As are so 2015. We flipped the script, questioning some of the most popular answers about the big topics of today including climate change, unauthorized immigration, and gun violence. Matt explains more about how this works here. The entire list of A&Qs is available here.
Eleven Things You Shouldn't Miss