The Big Stories We Covered This Week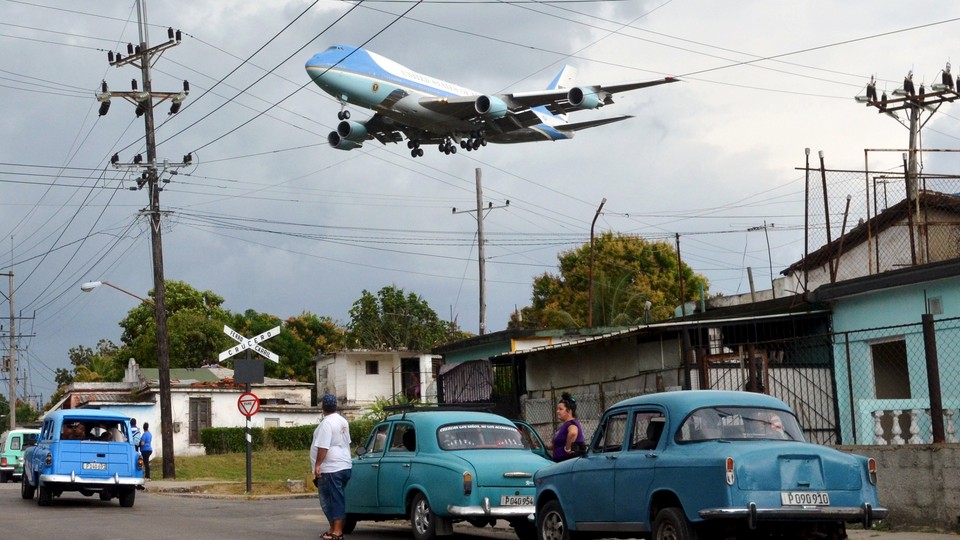 Editor's Note:
This article previously appeared in a different format as part of The Atlantic's Notes section, retired in 2021.
Terror in Brussels
A series of explosions on Tuesday left more than 30 people dead in Belgium. Emily assembled photos of the attack, David looked at "how Belgium tried and failed to stop jihadist attacks," and Uri covered "the 'strategic logic' of suicide bombing."
Back in the U.S., the attacks loomed over the presidential primary. David covered the candidates's reactions, while Peter offered "what Trump and Cruz should learn from Belgium."
"¿Que bolá Cuba?"
This week, Barack Obama became the first sitting U.S. president to visit Cuba in decades. Jeff explained how Nelson Mandela's funeral may have played a role in the warming of relations between the two countries.
President Obama pushed Cubans and Raúl Castro to "leave the past behind," attended a baseball game, and was photographed with a Che Guevara mural in the background. As for the trade embargo, Obama voiced his belief that it is "going to end" eventually. Uri wrote about one Cuban blogger's reaction to the visit. He also reflected on "whether America should isolate enemies in the first place."
Upon leaving Cuba, the president flew to Argentina, where he visited a memorial dedicated to the victims of the Dirty War.
Meanwhile, on the Campaign Trail …
Donald Trump and Hillary Clinton continued their winning streak, sweeping "the biggest prize of the night" on Tuesday: Arizona's primary. Jeb Bush endorsed Ted Cruz—a move that, as Priscilla argues, signals a new level of confidence from the establishment in the Texas senator. What's the thought process behind endorsements, anyway? Andrew explains with a game theory experiment.
The latest conflict between Cruz and Trump got personal with "a Twitter-based Battle of the Wives," Emma writes, "showing how much American conservatism has changed." Molly theorizes how Trump became a "populist standard-bearer."
Twitter Turns Ten
Rob covered the anniversary of Jack Dorsey's first tweet and Vann examined how the rise of Twitter has shaped American politics.
Elsewhere in tech-land, "Apple did something it has never done before: It announced a new iPhone with a smaller screen than the last model," Rob observed. Speaking of iPhones, Kaveh covered an encryption bug that "left iMessages vulnerable to attack." Meanwhile, Adrienne blogged the 1877 release of a new telephone as if it was an Apple event.
Eleven Things You Shouldn't Miss
Talk Back
We're still looking for readers to weigh in on:
Email your responses to hello@theatlantic.com.