The Big Stories We Covered This Week
Editor's Note:
This article previously appeared in a different format as part of The Atlantic's Notes section, retired in 2021.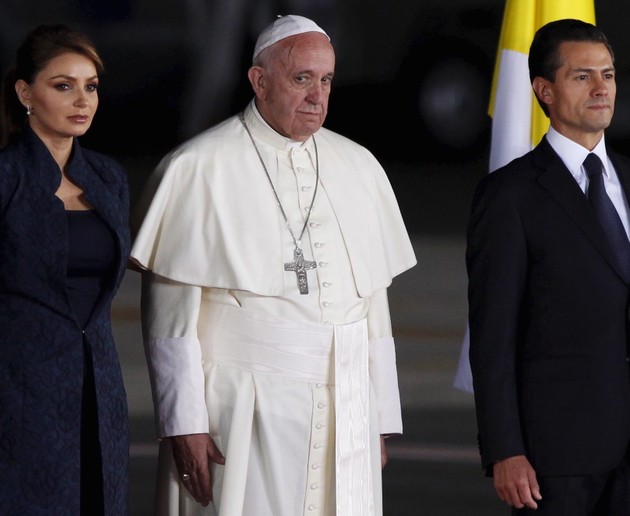 The Calm Before the Storm
The presidential candidates are gearing up for the third round of the race tomorrow: the Nevada Democratic caucuses and the South Carolina GOP primary. Just when you thought the race couldn't get any stranger, a feud unfolded between Donald Trump and Pope Francis. (Emma touched on the pontiff's views on Zika and contraception.) And the fate of the Jeb! campaign is very uncertain after Governor Nikki Haley endorsed Marco Rubio.
The questions looming over the weekend: In a tight Democratic race, who will Latinos back? In South Carolina, how will Trump, who holds the lead, fare among evangelicals? We'll be covering it live here.
In case you missed:
Scalia Changes Robes for the Heavenly Kind
The deceased Justice laid in repose today at the Supreme Court's Great Hall, ahead of his funeral tomorrow. Garrett Epps recognized Antonin Scalia's "outsized legacy" and Jeffrey Rosen articulated "what made Scalia great." Emma pondered what his death could mean for religious liberty while Charlotte Garden looked at the implications for public-sector unions. Garrett marveled at how Scalia's death is causing "hysteria" among Republicans and Nora was forced to cover the conspiracy theories surrounding his death because the GOP frontrunner gave them life.
Saying Farewell to Harper Lee
The author of To Kill a Mockingbird died today at 89. Adam dipped in the Atlantic archives in remembrance and Megan commemorated Harper Lee in full.
In case you missed these reviews from our Culture writers:
FBiPhone
Apple CEO Tim Cook on Wednesday pushed back on an FBI order that the company help unlock one of the San Bernardino shooter's iPhone, and today the agency pushed right back. Conor covered the controversy and wondered whether officers were "crying wolf about the dangers of locked phones."
In case you missed:
Making Sense of the Senses
Enjoy those eagle eyes; your kids may not. Julie reported on a new study predicting almost half of the world will be nearsighted by 2050. If that news isn't music to your ears, Adrienne covered the acoustics of yesteryear. She also checked her own reporting for gender bias and responded to a reader's criticism over the piece.
In case you missed: