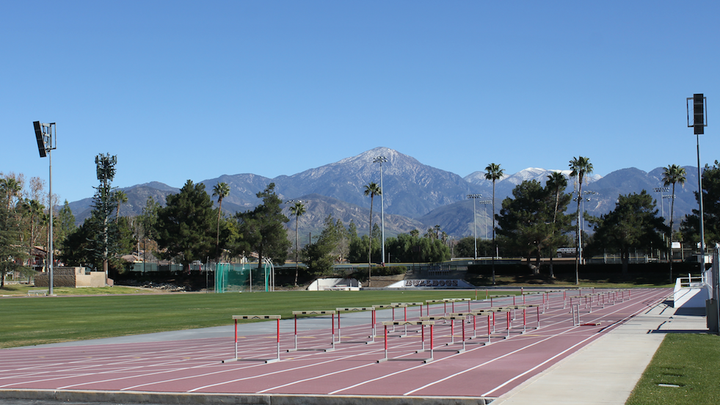 On January 11, I was carefully carrying a load of trash outside my house in Washington D.C., trying like crazy to avoid skidding into oblivion on the two-inch layer of ice on each step.
On January 13, I was going out for a mid-day run at the stadium at the University of Redlands, in California, our operating base during the West Coast swing of American Futures travels, about to resume.
I have no larger point here other than, (1) it is more enjoyable to be warm than cold, notwithstanding overall climate-change perils, and (2) reminder number five zillion of the range of experience in this vast land.
And perhaps (3), hopes that Pete Aguilar, a University of Redlands alum who after becoming the young mayor of the town has just been sworn in as a new Representative in the 114th Congress, first Democrat in the seat since the 1960s, is withstanding the reverse version of this climate shock.
And one more. When I was a school kid here, Joan Didion wrote her famous Saturday Evening Post article about the area, "Some Dreamers of the Golden Dream," which was included in her breakthrough collection,  Slouching Toward Bethlehem. In her first paragraph, she described this as ...
...  a harsher California, haunted by the Mohave just beyond the mountains, devastated by the hot dry Santa Ana wind that comes down through the passes at 100 miles an hour and whines through the Eucalyptus windbreaks and works on the nerves.
Yesterday the harsh, dry Santa Ana winds were coming down from the Mojave beyond these very mountains, whining through the palm trees as you see here:  
It can be tough to run in the wind, but this time I didn't mind.
We want to hear what you think about this article. Submit a letter to the editor or write to letters@theatlantic.com.
James Fallows
is a staff writer at
The Atlantic
and has written for the magazine since the late 1970s. He has reported extensively from outside the United States and once worked as President Jimmy Carter's chief speechwriter. He and his wife,
Deborah Fallows
, are the authors of the 2018 book
Our Towns: A 100,000-Mile Journey Into the Heart of America
, which was a national best seller and is the basis of a forthcoming HBO documentary.