Welcome Tide Fallows
A member of the next generation makes her debut.
There are updates from Mississippi and Minnesota in the queue, but for now let me mention the wonderful news that is foremost in our minds. Please welcome Tide Fallows, who made her debut on Sunday morning, June 8, a week or two ahead of schedule, in San Francisco. Here she is not long after her arrival, resting and holding onto her father's hand.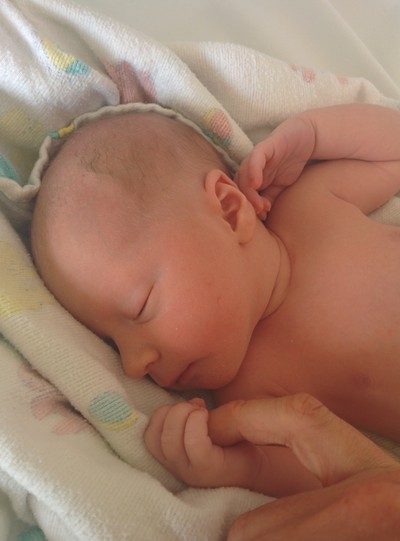 Back on March 15, 1977, Jody Powell, who was then the White House press secretary, began his daily list of announcements with news of the first child born to the Carter Administration's then-young staff. This was Thomas Mackenzie Fallows, our first son, who had arrived very early that morning at George Washington University hospital in D.C.
These years later, Tom's mature finger is the one you see in the picture above, in the grip of his newborn daughter and first child, Tide Mackenzie Fallows. The parents, Tom and Lizzy Bennett Fallows, love and live around the water; as it happens, Tide was born on World Oceans Day.
She is a beautiful baby, and our second grandchild. Her cousin, nearly three-year-old Jack Fallows, lives at the other end of California, in Corona del Mar. Mother, father, and baby daughter in the San Francisco family are all doing very well—as are mother, father, and son in Southern California too. Loving congratulations to the new parents, and a joyous welcome to young miss Tide—who as the first girl in our lineage in a while will have a lot to teach us all.