Household News: May 18, 2014
In-house developments involving the NYT, Marketplace radio, Japanese business, and other institutions.
1) Deb Fallows, best known to the world as author of Dreaming in Chinese and of a series of popular American Futures posts on language and schools (and best known to me as my wife), has a very nice story in today's NYT Travel section about what we've seen as we've gone from town to town. The online version has several great photos by Raymond McCrae Jones; if I can get permission, I will use one here. For now, check them out, and the story, at the Times's site.
2) Deb also has another of her school posts on the Atlantic's site right now, about the Mississippi School for Math and Science. Everyone involved with the school understands where their state stands in national school rankings and other indicators of economic and social progress. They are trying hard to move up.
3) Starting later today I'll start a series of posts about the business / industrial complement to those school efforts in the surrounding "Golden Triangle" area of Mississippi. Probably later this week, our partners at Marketplace will run their report on the shift from collapsing, old, lower-wage industries to new higher-wave factories in Mississippi. Here's a view when we were together in Columbus recently: Kai Ryssdal in the red shirt, engineer Charlton Thorp with the gear, and from the back Brenda Lathan of the (very successful) local economic development group, the Golden Triangle Development Link. I am the other person. We're standing in front of a shuttered factory, before going to a newly opened one.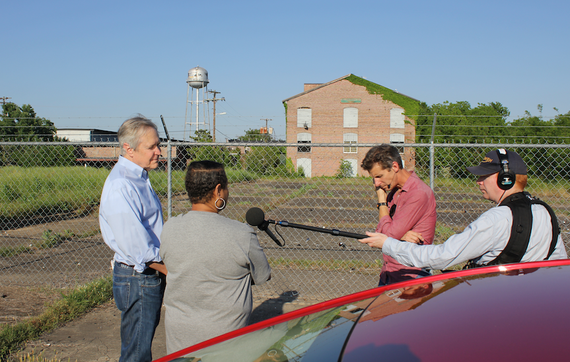 4) Also in today's NYT Book Review, I have a piece on David Pilling's very interesting book on Japan, Bending Adversity.
5) If he were still around, we would be celebrating my dad's 89th birthday today. He is not still around, as I chronicled at the time, five and a half years ago. This was a wonderful picture my sisters and brother and I saw only after our parents' deaths. It's of our mom and dad in their early 20s, soon after they'd gotten married. He was in medical school, she had just finished college and was working as a school teacher, and I was on the way.