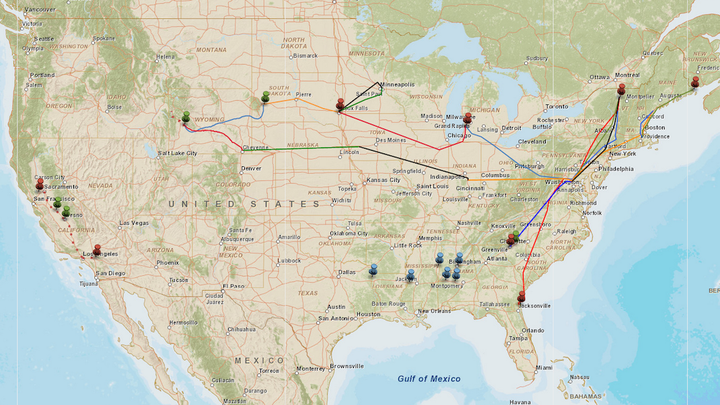 This evening James Bennet, the Atlantic's editor-in-chief, will be leading a conversation with Deb Fallows and me about the American Futures travels we've undertaken for the past few months, and for which we're about to kick off another extended trek.
Reinvention and resilience across the nation
Read more
It will be at the historic Sixth and I Street Synagogue in Washington, whose address I will let you figure out for yourself, starting at 7pm. If you're in the vicinity, please come by.
Our partners in this project have been Marketplace, with whom we've done a series of joint broadcasts and web features, and the mapping company Esri, of Redlands, California. What you see below is the counterpart of a first-grader's  finger-painted version of an Esri map. This is one I've thrown together to give a rough-and-ready idea of where we've gone, and where we're likely to head next.
It's zoomable and so on, but the main idea is: Red stars show places where we've made extended visits, green ones are shorter couple-day stops -- in both cases, including areas we'll  start describing soon. (Including Greer, South Carolina, and Fresno and Winters in California.) The blue stars are places we're looking at starting a few days from now. And the parti-colored lines are a random assortment of routes we actually flew in the airplane, or places we went on our California swing, by car. (The dotted lines are by car.)
Here is a more sophisticated-looking map, by John Tierney and Svati Narula, showing the cities about which people have written in to suggest a visit. The biggest the green dot, the more proposals we've received.
In principle we'd love to see all of them. For a look at what we've learned so far, hope to see you this evening. Then we're off for some of the sites in blue below:
We want to hear what you think about this article. Submit a letter to the editor or write to letters@theatlantic.com.
James Fallows
is a staff writer at
The Atlantic
and has written for the magazine since the late 1970s. He has reported extensively from outside the United States and once worked as President Jimmy Carter's chief speechwriter. He and his wife,
Deborah Fallows
, are the authors of the 2018 book
Our Towns: A 100,000-Mile Journey Into the Heart of America
, which was a national best seller and is the basis of a forthcoming HBO documentary.