Mike the Cat
The gregariousness of a dog, the dignity of a cat.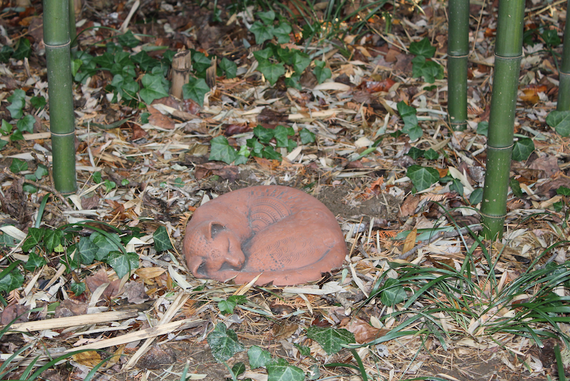 We take animals into our lives knowing that, in the normal course of events, we will see them leave. Over the ages people have written about the satisfactions and heartbreak of this cycle. When I was a kid, we had Old Yeller and the then venerable animal-consciousness tearjerker Beautiful Joe. My parents gave their hearts to generation after generation of beloved dogs: bumptious and uncontrollable as puppies, hobbling and rheumy a dozen years later, thumping their tails even when they couldn't stand. Very recently Andrew Sullivan has written about the wrenching end for his beagle Dusty, and Kevin Drum about his cat Inkblot.
Nothing lasts forever, and small animals are here for only a brief while. I learned this raising dogs, cats, hamsters, pigeons, plus fish and a steer in my 4-H days. But our cat Mike, always known as Mike the Cat, pushed the limits, reaching the age of 21 and 1/2 before the end came shortly before Thanksgiving.
This weekend, just before the snows in Washington, my wife and I had a little remembrance for Mike in the bamboo where he had spent many an afternoon, putting his ashes beneath a clay statue we'd bought long ago because it reminded us of him. You see his site in the bamboo above. Rebecca Frankel, with whom Mike the Cat happily spent the final third of his life -- the transfer of custody was by far the most emotionally wrenching part of our deciding to move to China -- was there to say goodbye, as she had been there for him through seven years.
How old was Mike? So old that, as a Humane Society kitten, he was named for my then-young kids' favorite athlete, the then-rising star pitcher Mike Mussina who was then of the Orioles. Here is how our Mike looked at around age 11, halfway through. His left eye is closed because he has attitude, not because of some vision problem.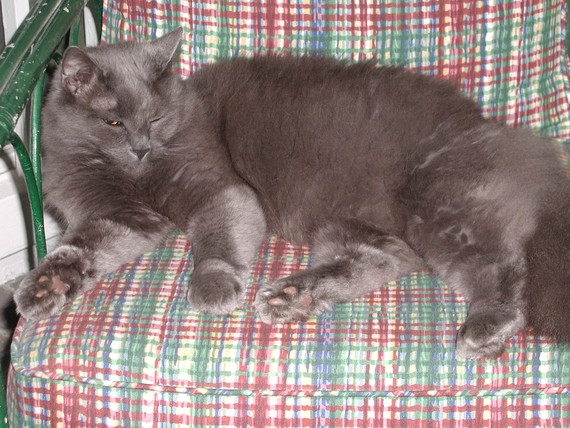 And here he was in his mature years, in a variety of poses. Helping Becky Frankel write, as he so often helped me: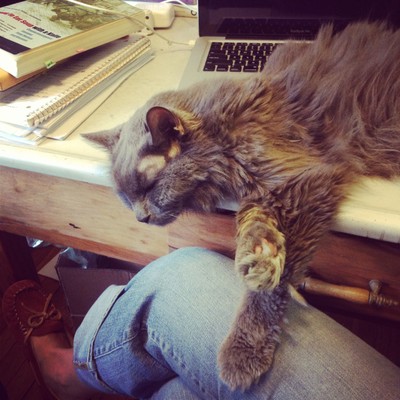 Displaying his trademark snowshoe-sized furred paws: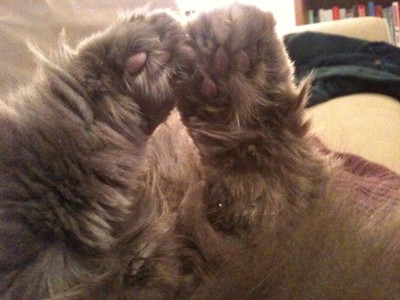 And posing thoughtfully, probably thinking about food.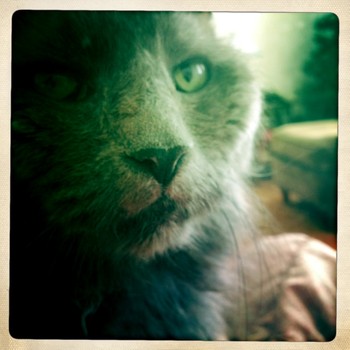 These animals make a difference, and leave a hole. This one had a particularly big personality -- the gregariousness of a dog, combined with the dignity of a cat -- and made a big mark. Enough time has passed that all of us feel more grateful for the experience of living with him than sorrowful that he is gone. Barely.
---
Stephen Budiansky and his family were also part of the loving chain of custody for Mike the Cat and his much less hardy and long-lived sibling, Whitecap. I have always thought it was no coincidence that Steve's wonderful book The Character of Cats came out soon afterwards. The first two photos above are by me, and the other three by Rebecca Frankel.