Hey Everybody, an Old Man Is Talking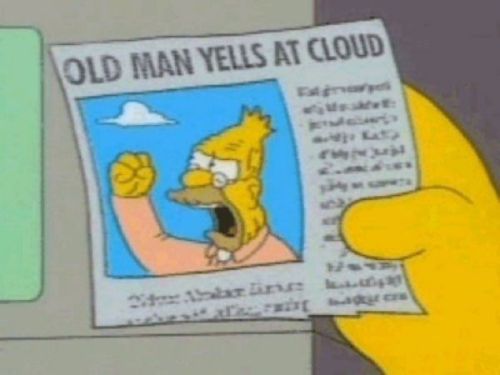 I used Nicole Cliffe's piece "Getting the Body You've Always Wanted" from The Hairpin in my essay class last year. It was something of a hit. There were only women in the class. I recommended they read The 'Pin because I'm totally up with what all the anti-racist, sex-positive kids are doing these days. I'm hip. I'm with it. I'm intersectional. I'm an ally. I've got privilege, man.
And I love The 'Pin, but I loved it a little less after Cliffe made a getaway. She got with a homegirl and started
The Toast
, which I've been enjoying a little too much for a man my age. Whatever. I told you I was intersectional. This piece, for instance, "
A Day in The Life of a Troubled Male Antihero
," was basically written for me. I don't think I should excerpt it here since its full of not-nice language. (We can talk in comments.) But I want to say that after reading that piece, I felt a little less lonely in the world.
And I felt that way after perusing the site. The Toast is so ratchet, as the kids would say. Wait, isn't that what the kids would say? Is that a compliment? My son told me to say that. How about "The Toast is so twerking?" "The Toast is so HAM?" No? Hmm. This is not working out like I planned. 
Eff it.