Crowdsourcing a Translation Question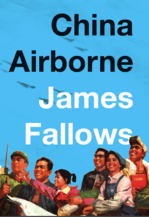 I seek advice from people who know both English and Chinese. A Chinese writer is trying to figure out the best title for the Chinese version of my recent book, whose title in English is China Airborne.
One possibility is 云上的中国, essentially "China in the Clouds." As a plus, this conveys some of the dreamy aspect I mean to get across, and also the non-guaranteed nature of Chinese success in its various ambitions.
Another is 中国横空出世 , with a more literal and assured sense of China taking off and reaching the skies.
(I have rudimentary but not-at-all-nuanced comprehension of written Chinese of this sort.)
I'll round up a panel of a few native Chinese-speaking friends; appoint them judges; and give a prize to whoever can come up with the right nuanced version of a Chinese title. Prizes include: magazine subscription, copies of book, beer, and so on. Thanks!
Also in book news, I'm scheduled to be on C-Span book TV this weekend, and the Colbert show next week, discussing this topic -- and in English. Will put updates on my book-news page shortly.