Book News: June 6, Charlie Rose Show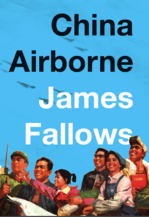 Yesterday I was in New York taping an interview about China, Chinese technology, Chinese ambitions, and so on for the Charlie Rose show. It is scheduled to be run tonight.
Other news coming up shortly, but I mention this just for the record and because it was a lot of fun. It was also fun being able briefly to consort with the actual movie stars being interviewed before and after me, but as a sober journalist I am not supposed to admit that. One of them was himself a pilot, so I had some assumed topic of shared interests beyond "Oh I'm a big fan."