Book News from All Around, Including China Daily!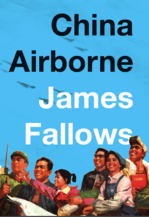 For the record:
1) A very nice article on China's aerospace ambitions, by Kelly Chung Dawson, in China Daily. Of course I am particularly grateful for this one.
2) Also grateful for Eric Liu's article, in Time, about the real dynamics of US-China competition.
3) And to Brendan Koerner for his item in the Zocalo's  Summer Beach Bag reading list.
4) And to Margaret Slattery for her roundup of a Foreign Policy summer reading list.
Seriously, thanks to all for their gracious attention. Hey, read up!
(Pretty soon, on my book website, I'll do a compendium of video clips and reviews, fyi.)