My Last 'Book News' Post in This Space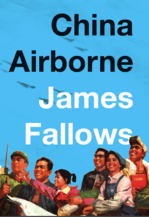 My tech colleagues at the Atlantic have graciously set up a special standalone page for book-related info. (Thank you: Betsy, Clarissa, Sarah, Jennie.) As of tomorrow, I will have wrangled it sufficiently to move all further such info there.
For the moment, one last book installment:
1) Monday night DC: Politics & Prose. If you are in DC on May 21, I will be at this renowned bookstore at 7pm. Last night, I saw my friend Tim Noah discuss his excellent book, The Great Divergence, there.
2) Tuesday night NYC: If you are in New York on May 22, I'll be there in the evening, with my friend and mentor Orville Schell.
3) Last night, All Things Considered. I did an interview with Guy Raz about China's overall technological ambitions, as reflected by its aerospace drive.
4) Last week, Marginal Revolution. The economist (and Atlantic author!) Tyler Cowen had a very generous note about the book on his site. I am mainly delighted that he saw the central point.
After that, headed to Louisville -- and Shanghai! But more about that tomorrow, on the new page.