Debut of a New 'China Airborne' Page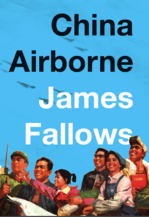 Thanks to the efforts of our tech staff, a standalone page about my new book should now exist. It's here. I've just done a light initial populating of it with info and will try to keep it up to date with tour schedules, photos, and other related stuff.
But in my sayonara -- in context, maybe I should say 再见 -- posting on this "main" page, I need to say how grateful I am for a positive review from the eminent Minxin Pei, of Claremont McKenna College, in the San Francisco Chronicle yesterday. I have quotes over at the other site, but I'll just say that it means a lot to hear these things from him.
As of tomorrow, all such info will be at the other site. Previous book-related postings are here. Thanks for your attention in this space.