Book News: Seattle, Phoenix, Asia Sentinel, Malaysia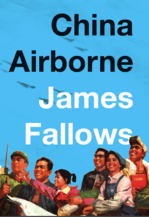 As promised, will move these to a standalone site when we eventually get one up and running, but until that occurs:
1) Silicon Valley Thanks to Jonathan Weber, long ago my boss at the Industry Standard and now west coast bureau chief for Reuters, for moderating an interesting session last night at the Commonwealth Club in Palo Alto. I believe a video of the speech and Q & A will be available online at some point.
2) Seattle Tonight I will be in yet another of my beloved former home cities, Seattle, in a session with Eric Liu at Town Hall. Hope to see you there.
3) Phoenix Tomorrow night, at another Zócalo event (after a very enjoyable one in Santa Monica on Monday) I will be at the Scottsdale Museum of Contemporary Art.
4) Asia Sentinel A very thorough review yesterday in Asia Sentinel by John Berthelsen*, who has covered similar techo-nationalism developments in Asia over the decades for the Wall Street Journal and other publications. I'm grateful for the seriousness with which he takes the argument.
__
* The Berthelsen and Fallows families share a strange small-world connection. In the fall of 1986, my wife and I had just arrived with our two young sons in Kuala Lumpur, the capital of Malaysia, with plans of spending the next two years based there while I traveled around the region doing reports for the Atlantic.
We had been staying for several weeks in the classic/seedy colonial hotel, the Merlin, while trying to find a permanent place to live. Eventually a wonderful possibility emerged: an old-style colonial rubber-planter's bungalow, complete with whitewashed walls and red-tiled roof, with mango and papaya trees is the spacious yard, and with windows that were open to the elements, so that birds flew right through during the daytime. It was on Lorong Kuda -- "Horse Lane" -- and was right on the edge of the colonial-relic turf horse-racing course then in the middle of town, so that on race days our sons and their friends could watch from a few yards' distance as a clot of racing horses thundered by. We loved that house and every minute of the years we spent there.
Why was it available? It was about to be rented - but the prospective tenants, one John Berthelsen and his wife, had not been able to begin their occupancy. The Malaysian government had just ordered Berthelsen expelled, out of pique at the forthright coverage that he and his fellow Wall Street Journal correspondent, Raphael "Rocky" Pura, had been doing on Malaysian politics. (In those days, the WSJ and International Herald Tribune would often not be delivered at all to newsstands and subscribers, or would show up with pages ripped out, if they displeased the government censors.) The Berthelsens' departure was a loss for them and their readers, but for my family there was a silver lining in strictly real-estate terms. We tried to enjoy the house vicariously on their account.
More about this house and its stormy history another time.