Book News: Diane Rehm Show, Plus Philadelphia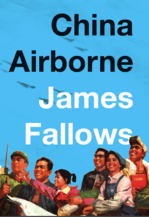 As mentioned yesterday, here is the first in a series of book-tour and book-promo announcements.
I will be on the Diane Rehm show, from WAMU in Washington, starting about 90 minutes from now, at 11am EDT.
This evening I will be in Philadelphia, my native city, at a Philadelphia Council on Foreign Relations event. Details on that, and on appearances around the country over the next two weeks are at this Random House page. In a day or two I expect to have a stand-alone book-info page on this site.
As prep, here are two Atlantic excerpts from the book -- an adventure story, and a policy essay -- and an environmental one in Popular Science. More as they appear.