At the Movies With 'Big Words'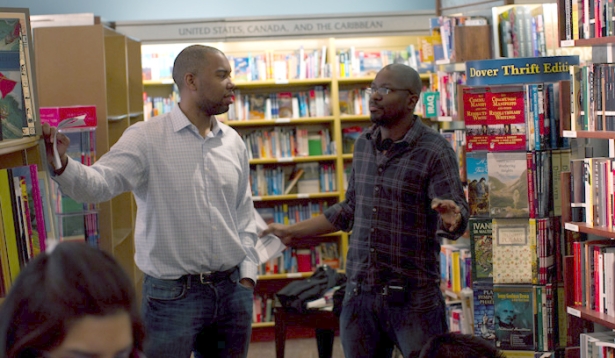 As I mentioned last week, I shot a really short scene for the movie Big Words helmed by my friend Neil Drumming. You should check out Neil's ongoing journal here. As for me, I had two reactions.
First, it convinced that I could never make a movie. Writing is such a lonely, solitary occupation. I've actually never liked this as I'm a pretty social person. But watching Big Words come to life it became clear that this thing had a lot of moving (wonderful) parts. People have to manage jobs, and managers have to manage people. And, more than anything, the writer has to be really willing to allow other people to see something different in their work.
I would go so far as to say that a kind of generosity becomes essential. I had never actually considered that. A lot of people have asked, over the years, why I didn't write The Beautiful Struggle up as a screenplay and push it to the movies. I've thought about a few times. But it's not something I'm really capable of. I say this all the time, but I am, at the end of the day, pretty selfish. I actually do like being alone--even if I don't like the idea of it. I like being in total control.
Second, I was utterly amazed at how the actors simply will the cameras and crew to disappear and go off to do their job. The day I was visiting, Gbenga Akinnagbe and Zachary Booth were shooting together. When working on fiction (and memoir) I generally do a ton of research and craft a voice. Once I have the voice I try to "forget" all the research and just be the character I'm writing--whether that's a surrealistic take on me circa 1994 (as in The Beautiful Struggle), or a white plantation mistress circa 1854 (as in my present project.) 
But I have the luxury of throwing on a hoodie, and doing that in some dim corner of my favorite cafe. These guys do it with people watching and making suggestions the whole way. I understand they aren't "writing" but they are creating. Zachary and Gbenga's character had to establish a particular bond, a rapport, and they had to do it on the spot. To my knowledge, they had never created anything together before. And yet there they were, making, creating it, in the moment, on the spot.
It was beautiful to see. I can't way for you guys to check this one out.
The picture above is Neil explaining what the hell is going on. The funnest part was trading jokes with Gbenga about Baltimore, and the precise number of bodies left in the vacants.