David Ryan -- David Ryan is a boat builder, USCG licensed master captain, and a sometimes writer and filmmaker. He is the owner and skipper of Sailing Montauk and chief builder at The Montauk Catamaran Company. You can follow him on Twitter @CaptDavidRyan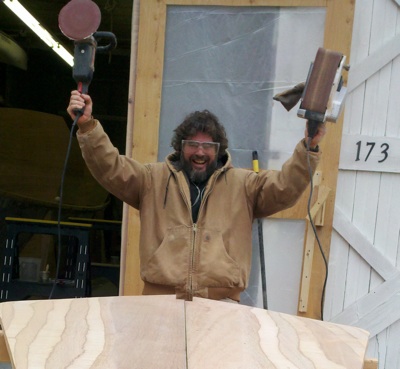 The author, with belt sander and disc sander, enjoying a day at the boat shop.


Thank you Megan for the introduction and for allowing me the opportunity to "unveil" myself to your readers.
My name is David Ryan, but for the first decade of the 21st century I did my most important work -- producing films exploring sexuality within the context of committed relationships, and writing about the legal and social issues that surrounded making and distributing those films -- under the name Tony Comstock, a backhanded homage to the great early 20th century American censor and moralist Anthony Comstock.
The culmination of that work was an invitation from James Fallows to stand in his stead as a guest-blogger, with the encouragement from Jim to, "Write about what's important to you."
I did.
In that one week I distilled 15 years of filmmaking and six years of near constant research and writing into some 16,000 words, all carefully copy-edited, formated and published by two very overworked interns.
It was one of the most remarkable intellectual and creative experiences of my life; to tell the story of a project about which I cared passionately in the electronic pages of a magazine I have read and admired for more than 30 years.
But as exciting and satisfying as the week was, it was tinged with both sadness and hope. In addition to using my platform as a chance to "make my case" I also used it to announce that I was giving up on the Comstock Films project and turning my attentions elsewhere. Quoting from my final post, Kludges Adaptations, and Evolution:
When James Fallows e-mailed me to ask if I'd be interested guest-blogging for him, my first reaction was to yell out, "Goddammit. I knew something like this was going to happen!"

That probably seems a strange reaction to such a wonderful opportunity, so let me see if I can explain.

Everything I've written about for the last week I know about because I've lived it.

All the research, all the writing, and all the thinking about how this all goes together has been in service of trying to make my movies.

I've been writing about my movies and the issues that swirl around them for six years, and in a way it's been like an extended version of that encounter with that loan officer 20 years ago.

I became a writer not because that's what comes naturally to me, but because that's what I needed to do to fight for what I want: to be an filmmaker, and to make the films that are important to me.

And now here I am. I've spent a week making my case while guest-blogging for James Fallows at The Atlantic.

Except that a few weeks before Jim asked me to fill in, I had come to the conclusion, for all the reasons outlined in this last week, that I couldn't win. I had come to the conclusion that writing about my work, explaining and framing, was in essence, admitting that I was wrong.

You can't just make movies about love and sex and say that explanations don't matter.

The truth is, the explanations matter more than the movies themselves, and mine weren't good enough.

In fact, two days before Jim asked me, I received email from the managing editor of another magazine. His bosses (yes, even managing editors have bosses) had put the kibosh on his idea to have me as "featured contributer" (don't know what that is but it sounds good, doesn't it!) in an upcoming issue, and he wanted to apologize. (None needed JK, this is bigger than both of us.)

Faced with mounting evidence that my films were born of a time and circumstances that had passed, I resolved that "Brett and Melanie: Boi Meets Girl" would be the last film, and that it was time to move on to something else. So what did I decide to do? I decided to start a sustainable energy eco-tourism project in the community where I live. This project has a educational component for local school children which I hope we'll be able to provide at little or no cost. That's my attempt to skip as much of that "flinty middle stage" of life as possible and get on with the giving back part of my life while my heart still beats strong and true.

I am as excited about this as anything I've done before.

But wizened as I am, I am now able to recognize that as much as this move is a product of my insight and willingness to take risks, it is also simply a response to social trends and technology. I am not a leaf in the wind, but neither am I a colossus standing astride history.
Fifteen months after that post I find myself in the midst of constructing a 40' Polynesian-style catamaran. When launched, the S/V MON TIKI will be the only US Coast Guard Inspected and Certificated Passenger Sailing Vessel on Long Island, and she will go into service as a daysailing charter in my hometown of Montauk, with myself as the skipper.
During my stay here as Megan's guest I'll be writing about why I chose sailing as my next career; why I chose building my own boat over purchasing an already existing boat or commissioning a boatyard to build one for me; why I chose a never-certificated-before design built from never-certificated-before materials and techniques and what it took from an engineering and bureaucratic standpoint to bring a new design and innovative materials into the regulatory fold; and of course the day-to-day of turning a pile of lumber, several hundred yards of fiberglass cloth, and two 55 gallon barrels of epoxy resin into a boat that can be a platform for a business that will feed, clothe and shelter my family, or cross an ocean, as the need arises.
To nonsailors/nonboat builders that probably sounds a little dry, but the Atlantic has a long tradition of publishing work that somehow manages to take the arcane and make it, if not relevant, then at least entertaining and informative to its readers.
That's what I'll be aiming for in the next two weeks. I'm sure this blog's vociferous commentariat will not be shy about letting me know if I fall short!
__________________________________________________
* The title of this introductory post "Prince of Grinds" is a riff on a David Brooks column
An Economy of Grinds
.