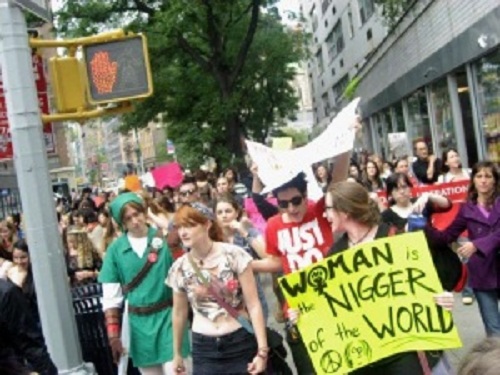 I just wanted to offer a quick follow-up to the post on Herman Cain and gender, and the greater issue of race/gender comparisons. Various commenters make the case--if half-heartedly--that a "which is worse?" comparison can be helpful, and/or defending "Woman is the nigger of the world" analogy.  I don't really reject these sorts of analogies out of desire to be sensitive or inclusive. Those are all good things, but they aren't my reasons.
Frankly, I'm always suspicious of any thinker who leads with overly broad analogizing as opposed to specific issues. I guess The Civil War is America's World War II, abortion is like slavery, and I guess black people are the faggots of America, and Native Americans are the bitches of the country, and the Middle Passage kinda was a Black Holocaust, and only worse than the actual Holocaust, because racism is really much worse than anti-Semitism.
But I kinda guess not.
An abstract thought-experiment unhindered by the need to read books and know things can make any analogy work. Pie is like steak. They're both food... 
I've being seeing this sort of stuff since my freshman year at Howard when Malik Zulu Shabazz and Khalid Muhammad would insist that 500 million people died in the Middle Passage. (You can guess who the primary villain for this "real" Holocaust was.)
Since that time, my question has always been the same: What issue are you actually trying to clarify when you make these comparisons? What aspect of history or social life are you really trying to illuminate? Are you really trying to talk to other people, or are you trying to shut them down? Did Yoko Ono and John Lennon really have a deep understanding of what it meant to a "nigger?" Were they even interested? Or were they just looking to wedge an entire people into their need for a symbol?
There is always a way to make yourself right, and win the argument. There's also a difference between curiosity and one-upmanship. I've yet to see a legitimately curious person begin their conversation with an overly broad analogy. But I've seen a lot of dogmatic ideologues wield them like clubs.