There will be time later on for challenging news of finance and politics. Right now, here is some wonderful news of local interest. Please welcome Jack Fallows, making his debut in the early morning hours of August 6, in Los Angeles.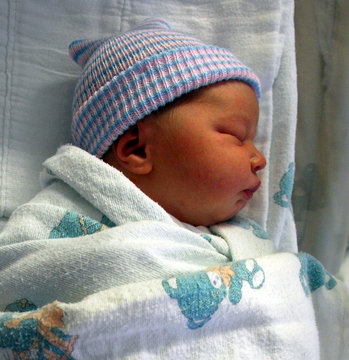 Jackson Scott Fallows, at 8 pounds and 14 ounces, first child for
Annie Kaufman Fallows
* and
Tad Fallows
, first grandchild for
us
. Everyone involved is doing well. It's always good to have new talent for the fray, and of course we are particularly delighted by this arrival. Congratulations to mother, father, and their handsome new son.
____
*The link above,
to the NYT story
three years ago about the wedding of young Jack's parents,  is behaving oddly. Often on first click it will say "page not found," and then if you hit refresh, it comes up just fine. I have no explanation, but FYI it actually is there, again at
this link
.