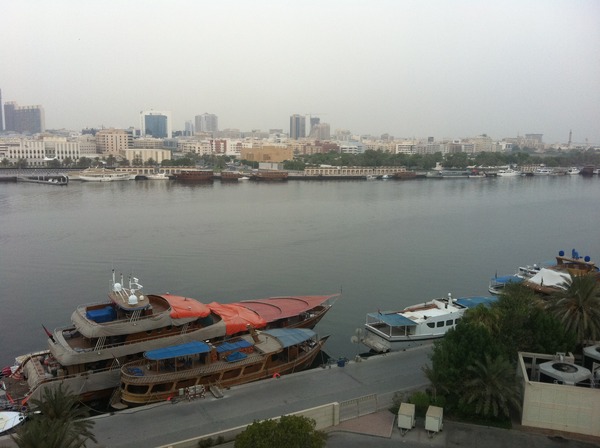 (photo credit: Steve Clemons; click image for larger version)
This is just a check in post.  I've been in the UAE for a couple of days and took this shot of Dubai Creek from my window at the very nice
Sheraton Dubai Creek Hotel & Towers
-- very nice and less pricey than many of the other spots here in town.
Last night, I checked out
Buddha Bar
in the
Grosvenor House
-- and also went up and did some writing on the 44th floor of the Starwood-managed Grosvenor House and there met a bunch of Iranian business people. They felt just as dismayed about their own government as most Americans feel about theirs; hate of government may be the new rallying cry globally.  Definitely got the same vibe when I was in Tokyo last week. 
China may be one of the last refuges of reasonable popularity with the majority of its population -- perhaps Brazil too.
Dubai -- along with Abu Dhabi, Doha, and Beijing -- are probably the best cities in the world to be able to encounter anyone, at least those that the US government doesn't want its citizens to deal with.  Some estimate that the UAE has nearly $200 billion in investment from Iran here, the majority of which is in Dubai.
Off with
Center for International Policy
chief
William Goodfellow
to Kabul this morning.  Goodfellow is married to the many Pulitzer Prize accumulating
Dana Priest
-- whose work on the sprawling American national intelligence complex, "
Top Secret America
", was one of the best series I've read -- and also author of the depressingly accurate
The Mission: Waging War and Keeping Peace with America's Military
.
In this book, Priest argues in 2003 that the US military is essentially becoming the defacto everything -- warrior, nation builder, diplomatic corps, utility manager, and so on -- in America's ever large conflict portfolio. She was and is right -- and this needs to be reversed.
With all due respect to Goodfellow, I'd rather be traveling with Priest whom I know gets the conflict zone thing better than we do.
OK -- off to Kabul.