The Cutest Trend in Pie Baking: Mason Jars
[Courtney Knapp]
I love pie.

Every March 14, I make a pi pie. In college, the only sorority I wanted to join was Pie Pie Pie. And my dinner parties always end with something flaky, buttery and fruit stuffed.
It's okay if you don't like pie. You can skip this post and leave your slice on the plate. I will eat it. Nathan Heller this means you!
My favorite recent advancement in pie is to bake mini pies into half-pint mason jars. (You don't need the mini pie maker Megan scoffed at in December)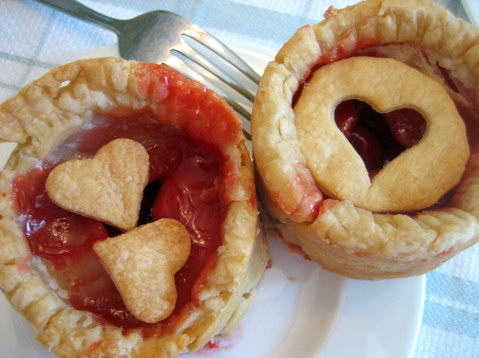 These pies are easy, delicious and adorable.
Mini pies use the same dough and filling as big pies. In most cases, the ingredients for your favorite pie will yield about four or five mini pies in jars (however I have heard of cases were the baker was forced to eat extra filling on top of ice cream while waiting for her mini pies to bake...)
Since it is the first official day of summer, I recommend making Strawberry Rhubarb Pie but Michigan Tart Cherry Pie is another excellent choice.
My favorite recipe for pie crust is here and if you go the store-bought route, Serious Eats recommends Trader Joe's pie crust.

Both Not Martha and Our Best Bites have mini-pie tutorials but here are the basics:
Once you've gathered your ingredients all you need to do is roll out your dough, using the ring of the mason jar cut out tops. Use the remaining dough to line the jars. The half-pint jars I use need about half a cup of filling. Add the filling, put on the tops and press the dough together to seal. Lattice, fun vents and crumbly toppings are all encouraged.
Bake your mini pies at 375 degrees for 45 minutes until the tops are golden brown and the middles are bubbling.
As a bonus, these mini pies can be frozen and baked whenever you need a fresh serving of pie. When your mini pies have been assembled just place metal lids on, seal them tight and stick your min pies in the freezer. The Our Best Bites tutorial recommends putting frozen pies in the oven without preheating to give the jars a chance to warm up slowly, and then baking for an additional 5 to 15 minutes.
I don't know how long they last in the freezer but they only last about two weeks at my house.
Enjoy!