Rome's Friendliest Bed and Breakfast: An Ideal Place to Stay
Our expert points a reader toward a hotel worth dreaming about: centrally located, inexpensive, and, best of all, welcoming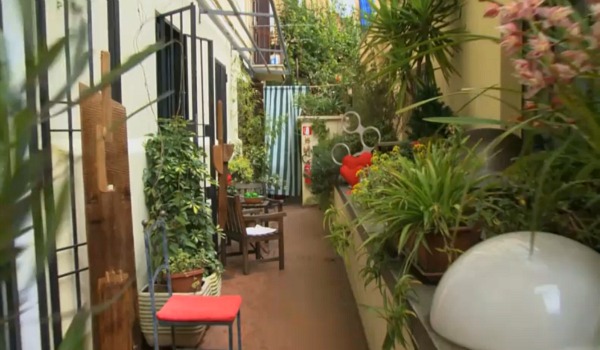 Q. A reader in Boston asks: I'm going to Rome this summer, and want to stay someplace reasonable, central, and quiet. And where they're nice. Can you recommend a good hotel?

A. Everybody in Italy is nice, hadn't you heard? But nowhere more than at Le Finestre di Luz, a bed and breakfast in a very central neighborhood I'd never explored: Via Crescenzio, just behind the Castel Sant'Angelo, first Hadrian's mausoleum and then the fortress and prison it still looks like, where Tosca plunged to her ... no, why spoil the ending to a good opera. It's a fast 10- or leisurely 20-minute walk one way to the Campo de' Fiori market in one direction; 20 minutes to the Vatican museums in the other; 20 minutes to the Piazza del Popolo, to start your Carvaggio and Villa Borghese walks; and 20 minutes again to the Pantheon, where you should begin and end all Rome days, following the coffee and gelato trail I did on my recent trip.
My secret fuel, though, was the welcome and repose I found at the two-room bed and breakfast my old friend Nicoletta, a documentary filmmaker who had and continues a successful career with RAI, the national television network, created in her former apartment, a loft that lent itself to division into neat rooms. Each has windows and French doors overlooking a plant and flower-covered terrace a few steps down from the courtyard of a large, early-20th-century apartment building on the busy thoroughfare--one of those happy surprises in any city, where you discover that simply facing the back completely isolates you from all the noise of traffic. (In fact, the B&B is in a separate building hidden from the street.) Nicoletta outfitted the two rooms--she was adding a third when we visited--with furniture and linens from her family, and the place reflects her artist's eye, with striking modern design for the bathrooms. You can see a slideshow of the rooms here, and a video showing Nicoletta characteristically putting a welcoming arm around a visitor here.
There's wireless in the rooms, good room-darkening shades, and modern outlets to recharge all the stuff you bring. And the prices (they vary by season; you can ask by email or phone about availability) are much better than hotels that offer nothing like this quiet, centrality, and comfort. But what really matters and tips the balance to a stay so nice you want to go back as soon as you can and are warmed just by the memories is the warmth of the welcome. And that's matchless, except perhaps in Italy. If Nicoletta is off on a shoot when you arrive, you'll be greeted by Sandra, an old friend of hers from their university days in Florence, who lives in a room off the kitchen, a marvelous den/reception room/place where their friends and guests come in and out during the day. You can have breakfast there or in your room, and it's marvelous, with spongy cakes Sandra bakes last thing every night for the morning--I'm dreaming now of her perfect, perfectly plain torta della nonna and the even better, light chocolate pound cake I methodically went through over one long morning.
The test of a good big-city hotel is whether you're tempted during a busy sightseeing day (and please think about the guided Context Travel tours that so enriched our last trip) to escape back for a nap, or just to sit and write notes on what you've seen, sunlight streaming through the windows and window boxes with geraniums and bowls of fresh lemons and oranges in front of you. See why I can't wait to get back?
Next: the castle in Umbria, less than two hours away, that will also feel like home, with equally memorable hosts and views practically back down to Rome (if you can't wait, sneak preview here; worth a detour).
---
To submit a food, drink, or restaurant advice question for Corby's next column, email askcorby@gmail.com.
Image: Le Finestre di Luz