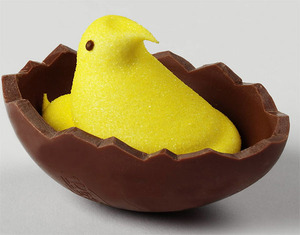 Happy Easter today!
Happy Passover this past week!
Best wishes on last week's First Day of Ridvan!
And so on. Among the reasons my family enjoyed living in Malaysia long ago is that its population included sizable groups from many religions -- Muslims, Buddhists, Hindus, Christians, Baha'i, and more -- and most people observed their own religious holidays, plus everyone else's too. That's the right approach.
When you have finished whatever spiritual celebrations are appropriate -- and enjoyed Peeps, as endorsed by Corby Kummer -- I direct your attention to the Acrostic Puzzle in today's New York Times magazine. These are always fun, and this one (by Emily Cox and Henry Rathvon) is great. Really, don't miss it.
__
More on today's puzzle and its surprising final word on my wife's site.