Good News From Boston: 44th Straight Marathon for Ben Beach
I ran the 1969 and 1970 Boston Marathons, plus several other races, with Bennett Beach, my friend on the college paper. But he had started a year before that, and he has finished every single Boston Marathon since then.
Today was #44, and once again he finished -- more of an accomplishment in recent years because he has developed a strange leg disorder. From the online results just now: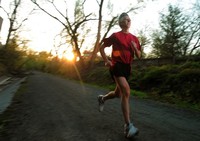 The Washington Post has a great
story about Ben
this morning, talking about his "other" life as a writer, lawyer, environmentalist, and political staffer, and his long determination to be at the Hopkinton start line every Patriots' Day. It also describes the longevity hunt: Johnny Kelley has the record of running 61 Boston Marathons and finishing 58. So Ben -- and a rival who started
one year earlier
and like him is still going -- work against time and injury toward that goal. Picture of Ben from the Post story.
In other news, Geoffrey Mutai won today's race with the
fastest marathon time ever
. Congrats! But I was mainly looking to see how Ben Beach had done.