By
Parker Donham
I was in my kitchen,
slow-boiling
frogs for lunch, when Jim Fallows called. Would I do a week's blog duty during his book-finishing hiatus? Of course I would. What an opportunity!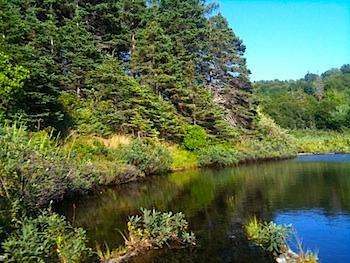 No sooner had Jim rung off, than doubts bubbled to the surface. Was I ready for The Show? Was I setting myself up for unflattering comparison? Day after day, Jim fills this space with
grace
,
civility
, and uncommon
sense
. He does this in his spare time, never breaking stride in his breathtaking output of magazine pieces, speeches, public appearances, and books. It takes five guest bloggers, working shifts, to keep up.
A commotion by the stove interrupted my reveries. I'd forgotten to cover the pot, and as soon as the water hit 140
° 
(60
°
 Canadian), the frogs leapt out and scattered. It took 20 minutes to round them up, by which time the water was at a full rolling boil. I didn't have the heart to dump them back in, so I carted them down to the shore and released them into the
barachois
 pond. No larger point here, as Jim might say. Just honored to stand briefly on this admired ground.
Photo: The brachois pond near my house at Kempt Head,
Cape Breton
, along the
Bras d'Or Lake
, shot looking back from the barrier beach in a warmer month than March. 

Parker Donham, a writer and consultant who lives on Cape Breton Island, Nova Scotia, blogs at Contrarian.ca.