Two Wonderful Invitations
by Brian Glucroft

I'd like to thank Jim for the invitation to guest blog on his site. My feelings largely mirror those Tony Comstock expressed earlier today in his thank you paragraph. While it's certainly an honor to be able to blog here, what most excites me is the opportunity to receive feedback from you -- the diverse readers of Jim's blog.
During my week of guest blogging I plan to cover a variety of topics of interest to me and familiar to readers here -- China, technology, etc. --  and posts will range from the serious to those that are on the lighter side. I also see Jim has put in a request to me for pictures.  I'll be more than happy to oblige.
I'd like to "break the ice" by sharing a recent experience I had in China which particularly touched me.
Last Wednesday was the day before the beginning of Chinese New Year.  It's considered by many to be the most important holiday in China and many Chinese return to their hometowns to spend time with their families. I, however, spent Wednesday exploring the city of Wuzhou in Guangxi alone after traveling there based on little more than seeing its name on a map.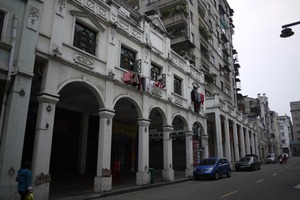 Wuzhou surprised me in several ways, one being its relatively well-preserved "Arcade City".  According to a street map in Wuzhou, "Since Wuzhou was opened to foreign trade in 1897, many businessmen came here for trade, leaving 560
arcade
buildings within 22 streets in the eastern part of Wuzhou city."  Based on what I saw and was told by others who live there, Wuzhou doesn't see many foreigners these days.
However, a bigger surprise was in store.
Through a chance meeting while I was exploring a residential area, a local family discovered I was going to be alone that evening. It was Chinese New Year's Eve -- a time when families typically gather together for a big dinner. The mother of the family felt my situation was unacceptable and kindly invited me to join them at their home.
The evening was wonderful. Everyone was exceedingly warm and there was much food, drink, and merriment. At one point I was asked if Americans celebrated their holidays in a similar fashion. Though there was certainly much that I could've pointed out as different, after some quick reflection I thought "family gathering, big meal, taking a break" and succinctly said, "Yes!"  This was heartily received by all and led to yet another toast of Chinese brandy.
A big thanks to this most hospitable family in Wuzhou who opened up their hearts, home, and dinner table to a complete stranger on this very special Chinese night.  And again, another big thanks to Jim for inviting me to this "home." Gan bei! (cheers!)
Based in Shanghai for over 4 years, Brian Glucroft has worked as a researcher in the user experience field for online services, electronic devices, and software companies, including Microsoft China, and has a new blog at Isidor's Fugue.