Rethinking Software: Writing With Links
by Mark Bernstein
My morning drive to Eastgate, our software workshop, is literary.
In the car this morning, I listened to the estimable Katherine Kellgren reading  Connie Willis' new historical fiction,
Blackout
. This is fun (and better for my blood pressure than talk radio), but it's also work: Eastgate has always been very interested in interlinked electronic narrative and for years I've been trying to interest hypertext writers in  historical fiction. I've not always been convincing. If the argument doesn't go better soon, I may try my hand.
My morning drive takes me past the former site of the Fannie Farmer School, deeply influential in popular American cookery and in American technical writing. Next comes the the house from which the Black Dahlia embarked for Hollywood and a different narrative than she'd contemplated. I cross the little river where Hayden and Cudworth once built China clippers,  and pass the site of the tavern where James Pierpont wrote "Jingle Bells."  I wave across the Mystic River at the home of Lydia Maria Child's grandfather, the house that was once over the river and through the woods.
I cross Mass. Ave. Paul Revere took a right turn here one night. To the left, the old road leads to my old lab, where I used to shoot large lasers and small molecules. Lots of terrific writers live that way --
Allegra Goodman's
Intuition captures the place perfectly, a historical novel of our very recent past.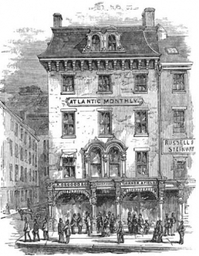 Eventually, I park at a clapboard office coop in an old Watertown farmhouse. Houses are the natural habitat of publishers; that's why we call them publishing
houses
.  Eastgate is on Main Street, the old Post Road. Turn right and follow it to its Boston starting point and you wind up at 124 Tremont, ancestral home of The Atlantic.  Turn left and the road leads past Walden Pond and, eventually, to Chicago, Galena, and then to Yellowstone.
For the past 25 years, I've worked to build artisanal software for reading and writing with links. The link is
an old idea
, of course, but  paper links were always tiresome to follow. The computer changed that. The link will turn out to be the most important new punctuation mark since the comma. We're still learning to use it.
Everyone uses software, but not many people make it. Eastgate is so small that it's far from typical. But over the course of the next week, I'd like to show you a little of how software gets made, and speculate on how we might build better literary machines.
Mark Bernstein is chief scientist at Eastgate Systems, where he crafts software for new ways of reading and writing.