By Edward Goldstick
OK, a disclaimer first:  I prefer to relax with a bourbon in hand (no ice, please)... but with the right meal or when watching a ball game or on a hot summer day, there is nothing like a cold (or when appropriate, not so cold) one whatever glass/tankard/bottle is employed...
On the other hand, my years in Europe convinced me of two things:  the mainstream American beers that will remain nameless are not my cup of tea unless consumed so cold that my tongue is numbed... and the well know French beers are equally mediocre when compared with the great brews from Germany, Ireland, ... well, you get the idea.  One of my favorite outings in Paris was a visit to a brasserie near Chatelet (I think) where they sold something like 350 different beers... and for each offering, they had a unique glass with forms that ranked from a tall narrow flute to a broad dish to numerous variants on the classic Pilsner (and one of my more memorable business trips during those years included a tour of the Guiness brewery near Dublin during which I discovered that their stout is, in fact, consumed cold from the draft while watching older Irish men charming the tickets for free pints from the women who were not interested in the dark elixir...but I digress...).
But it is equally true that I was overseas for so many years that I missed the expansion of the craft beer industry in the U.S. that has been so carefully and dispassionately evoked in these pages by their brewmaster.  While I had become familiar with the now grand (and varied) classics from the vats of Sam Adams and elsewhere, the broader expansion was news to me when I discovered it in Fallowsian terms over the past few years.  I've tried a few of his recommendations when I recognized them, but the store shelves tend to be stocked with just a few brands beyond the well established labels.
So it was with great pleasure, therefore, that I discovered a new business opening in our little town center about six months ago (which is curious in itself because licenses for the sale of alcoholic products in this town are parceled out with a restraint that recalls other eras... but I digress again...).  First a poster on the empty storefront window, then boxes filling the space and a tentative opening date on the door, and finally the Grand Opening in November of last year.
... but I must warn you that at last word there is still not a solution for the expedition of products beyond the borders of our fair Bay State via the US Postal Service, UPS, or FedEx whether as a  business or as a private citizen, much to my chagrin (sorry again, Jim... and I wonder whether your colleagues in DC will finally begin to regret the move south... but for what it's worth, the Yellow Snow IPA from Rogue Brewery was great on a cold and snowbound New Years Eve and the bottle of Green Flash 'Le Freak' from California (though I chose it for the name...) helped dull the pain when the Pats went down to the Jets...
But I digress again... and so if you're a beer aficionado and are curious, check out The Craft Beer Cellar.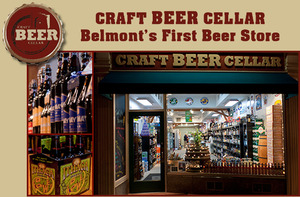 --
Please note (again):  I have no financial interest in this new establishment nor have I spoken at length with its owners who are two friendly women with stories worth telling... but my limited time in this space and other priorities kept me from playing amateur reporter as I had hoped; in fact, I've only been in the store a couple of times but pass it almost every morning... and without wanting to suggest that I indulge in distilled or fermented beverages other than very occasionally and always appropriately, I'm getting thirsty....
Edward Goldstick is a veteran of the high-tech, software, defense, and energy-technology worlds in the US and France.