The Legend of Studie Cross
Commneter Zic sends along her Christmas contribution with the following note:
Hi Megan,

I wrote the attached story in April 2001 for my local weekly, The
Bethel Citizen. While I'm tempted to tighten it up today, I won't. It
may be my writing but it's not my story, it's Studie's, so I'll leave
it unchanged.

About a year before I wrote this, Studie decided I was going to write
a story about him. Like most people, I avoided him, and I put him off,
always with, "I'm too busy." He kept going to the paper's office,
looking for me, until the editor said he was going to get a
restraining order.

The rest of the staff and I talked it over, and decided I should go
ahead and write the story to avoid that trouble for Studie; the editor
said he wouldn't publish it. We concocted a plan to have it put in the
archives of the local Historical Society; but after writing it, I
decided to run it by the editor anyway. He read it, and published it,
and it's one of the most beloved pieces ever run in the paper.

Studie died of cancer last month; he collapsed in my yard in October,
though I didn't know it. HIs family put this story on the wall in his
hospital room, proof that he was a legend, and read it at his memorial.

Studie wanted people to treat him kindly; to see him as real and
human. And that's what I'd wish for the blogosphere; we're all real,
human; a reminder that too it's easy to dismiss or respond rudely to
folks we don't understand or think beneath us. It's a small effort to
respect, to be kind.

I miss Studie. Miss that I'll never get to hear his legends, his
concern for me and my family, his updates on what's happening around
town. Most of all, I'll miss the way he took my hand, kissed my cheek,
and said, "'Becca, we're still friends," every time we said goodbye.

Wishing you joy and good will.

Rebecca Zicarelli, aka zic
What she said. Peace on earth, goodwill towards men, and God rest you merry, every one.
The Legend of Studie Cross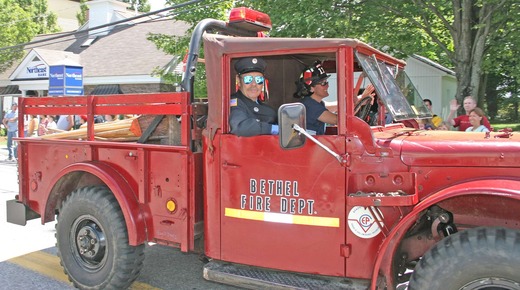 Each morning, Studie Cross walks into town. He's dressed in mirror-blue sunglasses, blue jeans, and a baseball hat turned back. There's a red bandanna under the hat, covering a hairline that climbs a little closer to the top of his head every year.
He stops to say hello to friends along the way. He'll chat a few minutes here, tell a joke there. Some people welcome him, happy to spare him a bit of their time. Others ignore him. Despite the rebuffs, each day he makes the trip, checking on people he cares about, making certain all's right with the world.
Part of his morning vigil includes inspecting projects he helped with. Studie is proud of the contributions he's made to Bethel; contributions he can see each day as he walks through town. He helped install the Millenium Sculpture and plaque by the post office, helped build the gazebo and fire-bell campanile on the common, helped lay the bricks by the Bethel Inn and most re-cently, the millenium bricks in front of the town hall. One of the bricks has his name on it.
"Where would this town be without me?" he asks.
Studie has lived in Bethel all his fifty-plus years. While his face shows the years, his spirit is considerably younger.
When asked how old he is, he said, "Well now, I'm the oldest, my brother's the youngest. I was born right after my father came home from the war. I guess I'll be eight or nine years old on my next birthday."
In some ways, he still is eight or nine years old. He struggles with words, numbers and names. They flit around him like birds, flying just out of reach. But Studie thinks deeply about the things that are important to him - his family and friends, adventures he's had, places he's been, and the problems of the world.
"People don't understand me," he said, then added, "no, wait, it's the other way around." He struggles with the notion, does he not understand people or do they not understand him?
"I've been retarded," he said finally, "ever since I grew up, and when I was a kid. But that's not my fault. It feels like getting left out. People should treat me like they treat you.
"I try to do the best I can. The life I had, I was lonely. I live on an old country road, out on Vernon Street. Some says we were rich, some says we were poor. But that don't mean anything. I've got a lot of friends, the people that I talk to. Friends make me feel good. I take the time to say hello, and be polite."
Studie helped his father, Stuart, and uncles Don and Norton Cross build Mount Abram Ski Area. "I helped build it from scratch," he said. "I was the guy who went down with a shovel, digging. I did everything there, pouring concrete, haying the slopes.
"I skied on Duane's Treat. I had Silver Wing skis. I came on down the trail, I was a fast skier." As he tells the tale, he looks into the past, reliving it as if it were yesterday.
The financial troubles that came to plague Mount Abram plagued Studie's life, as well.
"The family split up," he said. "They went their way, we went ours. It was money problems. It's a story people don't under-stand, and it tore families apart. Things are just wrong, sometimes, things in the past. I miss working with my uncles."
He changes the subject then, to talk of fishing and adventures in the wood.
"One winter I went ice fishing on Chamberlain Lake with my brother. I caught a fish about that long (he holds his hands about eight inches apart). I caught it right out of the ice," he said, and he shakes his head in amazement at the memory of fish swim-ming below the ice.
Studie loves the Maine wilderness. He talks about hiking with his sister-in-law, fishing with his brother, camping with his folks. He remembers walking over Mount Abram and down to the Irish Neighborhood by himself, fishing along the way.
And he enjoys the usual forms of relaxation, like going to the movies where he sits in the back, and going to Hoot Nite where he listens up front. He likes his room at his folks' house. It's upstairs, he said, and he's got his own color TV.
Studie also works in the music business, where he occasionally performs with Don Murphy, playing a bass washtub. "We're planning to do a song from the coast of Maine. It's a song about the ocean."
But the world, like oceans, can change, and not always for the better.
"When I was a kid, my mother took me and my grandmother to the train. We went up to my uncle's in New Hampshire. I like to travel. I still miss my grandmother," Studie said. "She's up to West Bethel, in Pine Cemetery. I go up to talk to her in the ceme-tery."
"I went to Massachusetts, too. I had a clubfoot, so I went to Shrine's Hospital in Springfield to have an operation. I escaped from there. I missed my family. But the law finally caught up with me. They wanted to know who I was, so I told them, I'm Stuart Cross Jr., from Bethel. My family came and picked me up."
Winters, Studie travels to Florida with his folks. "Last winter, I flew home by myself. It was the first time. I picked a window seat. We landed at a naval base, to let some people off. When that plane landed, I thought it was going to pull the brakes right out. It was scary."
He'd like to fly again, to see his aunt on the West Coast and to see Oregon and Washington State and the giant trees there.
Studie calls his story "The Legend of Studie Cross." He is a legend, living among us. A legend to remind people of the love of family, the warmth of friendship. He's here to help people wonder at the miracle of fish living beneath the ice and the thrill of skiing fast. He's here to teach the Golden Rule - treat others as you would be treated.
"In this world, sometimes you've got to go for it," he said, "but you've also got to look back, too. It's a wonderful world."