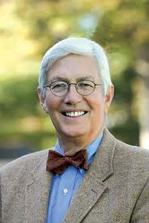 Two years ago I mentioned several times the difference John Strassburger had made in my family's life. Strassburger (left) was then the president of
Ursinus College
, a small liberal arts school in Collegeville, Pa. During WW II my dad had been rushed through Ursinus in two years, under the Navy's V-12 program, before going straight to medical school and then serving during the Korean War era as a Navy doctor. Through the following long decades of his role as a
beloved
small-town doctor in California, he had his Harvard Medical School and American College of Cardiologists etc certificates on his office wall -- but no college diploma, since he had never graduated. That's
him
as an Ursinus lineman, offense and defense, on the right.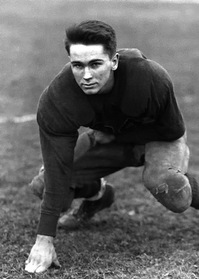 A few years ago, John Strassburger began correcting that historic oversight, making a big, celebratory deal out of honoring the V-12 era alums-but-not-graduates with Ursinus diplomas and degrees. Before going to China in 2006 I went to Collegeville to receive a diploma on my dad's behalf -- and in 2008, a few months before my dad's death in California, I made a trip back from China to speak at the Ursinus commencement and
tell the story
of his college years.
I have just learned that John Strassburger died late last month, at 68, of what was apparently a fast-developing cancer. He had stepped down as president only three months before. He was an accomplished historian and a polymath, and he really represented the American small-school liberal-arts tradition at its finest. I am glad to have known him, I respect what he meant to this college and its community, and I wish his family the best. Video of memorial service here.