An Interview With Hilda Ochoa of the Youth Orchestra of the Americas
The Youth Orchestra of the Americas is just winding up the 2010 four country, 20-city tour of Colombia, Ecuador, Peru and Brazil. Highlights included concerts with Joshua Bell in Colombia and the South American premier of Philip Glass' Cello Concerto, recorded for commercial release in the Fall, in Quito, and performed in Quito and Lima, and most importantly the launch of the Colombian Youth Philharmonic, in partnership with Batuta and Fundacion Bolivar Davivienda, to provide high level orchestral training opportunities to deserving Colombian youngsters.
As a member of the Board of the Orchestra I had the opportunity to join the Youth Orchestra for unforgettable concerts in Lima and Sao Paulo. What follows is an interview with the Founder and Chairman of the Orchestra, Hilda Ochoa, over a long and delicious lunch in Sao Paulo elegant Jardina district under the spreading limbs of an enormous ficus tree at La Figueira Restaurant where we were joined by her husband Arturo Brillemborg. The professional, enthusiasm, excellence and energy of the musicians are infectious. By the end of each performance the audience is on its feet dancing with the orchestra. The concerts are a combination of great music and great fun!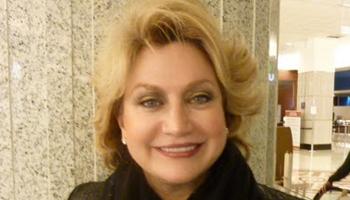 William: What is the origin of the Youth Orchestra of the Americas?
Hilda: The project for me began with a phone call from the Director Steven Reiffenberg of the David Rockefeller Center for Latin American Studies at Harvard University an institution that focuses Harvard's resources on issues of Latin America. Arturo and I have supported an Arts Chair at the Center to encourage interest in Latin American music, literature and the visual arts. He suggested that we get involved in the creation of a Youth Orchestra of the Americas. I was immediately interested as I knew of the important role the established  youth orchestras of Europe and Asia play in enriching musical life and in providing opportunities for young musicians.  Furthermore I was aware that Jose Antonio Abreu, a former teacher and friend was involved in an ambitious project to use classical music training as an important tool for social change. Steven had been approached by members of the New England Conservatory to explore this idea and he asked me. My first step was to convene a group of interested people in Washington DC where I live. At that meeting we created a group called the Friends of the Youth Orchestra of the Americas. Jose Antonio Abreu the founder of the Simon Bolivar National Youth Orchestra and a program of music education called "El Sistema" of Venezuela, was a member of this group and was very helpful to us in our formative years.  It also became evident early on that if I wanted this to happen, I would have to play a central organizing role. I liked the idea so I decided to do it.
We were fortunate that several groups donated their services. Booze Allen Hamilton drew up a strategic plan pro bono. People at Harvard's Rockefeller Center were very encouraging. A leading law firm in DC, Wilmer Cutler (now WilmerHale) did our legal work pro-bono.  Deutsche Bank provided significant early funding for our Latin American tours. The Youth Orchestra of the Americas was officially incorporated in 2001.
William: What is your motivating idea of the Youth Orchestra?
Hilda: From the beginning the concept was to create an orchestra that served a broad social and development mission. We decided that YOA would be much more than an exceptional performing orchestra.
Excellence is central to our mission. The YOA is intended to be an exceptional place for exceptional young people from all the 24 (36 if you include the Caribbean Island States) of the Americas. The Orchestra provides a platform for exceptional musicians in all these countries.
Very often the countries of the Americas do not see each other at their best. Politics, trade, immigration issues take precedence. YOA creates a showcase of what is best in our relationship. The musicians focus on one another and see that they all strive for excellence. Audiences see the Americas from both continents and all nations working to create a harmonious whole. We are much more than the sum of our parts. We are a powerful living force for performance at the peak. I believe the Orchestra provides an example of what the Americas can be! More importantly it serves as a powerfully motivating force for our young musicians to achieve dreams of excellence and as a platform to obtain valuable music fellowships in world class conservatories, they would have never reached without YOA training and exposure.
Benjamin Zander, the Conductor of the Boston Philharmonic Orchestra, and Carlos Miguel Prieto, have also played an essential role in the development of our philosophy. Zander sees an orchestra as a metaphor for cooperation and effective leadership. An orchestra demonstrates that creativity can flourish and be adapted improving the performance of an entire group. Any organization should focus on creativity, excellence, exactitude and coordination as does an orchestra. YOA provides an example of how societies can work at their best. Prieto has been an exceptional role model for our musicians, engaging them with a deep understanding of music as an art form and a channel for the intersection of intellectual and emotional balance. Gustavo Dudamel started conducted YOA when he was only 21. YOA was his first international orchestra and the one who first forced him to learn English. In 2002 we needed simultaneous translators to handle the four languages of the continent. Today, the musicians themselves serve the role, when needed.  Most musicians end up learning at least three languages after a tour: Spanish, English and Portuguese.  Learning salsa and Samba are de rigueur as well.
Another key precept is that the Orchestra creates a home for the young musicians. Many of our Orchestra have little home or community support. A profession in music, especially for the beginner is often isolating. We provide a home for our young musicians. We help them with their education, we help them find scholarships and with admissions to advanced music training programs. Our concept is that the networks they form here create a family for life.
The other major concept is that we give back to the communities of our musicians. We encourage each of our musicians to work in their communities to help identify, educate and encourage other young musicians. Witnessing how generously our young musicians give back to their communities and how they have become leaders of the musical communities in their own countries is one of the most satisfying and rewarding aspects of the orchestra for me.  These community development programs are called "Access to Excellence" or AX+EX.
For example members of the Orchestra have created important community music training programs in underserved communities in Chicago, Hawaii, Haiti, Colombia, Panama, Brazil, Chile, Bolivia and Uruguay.  The YOA musicians help each other by offering their services as teachers in cross-cultural exchange. If you want to have a sense for these programs, visit our website YOA.org.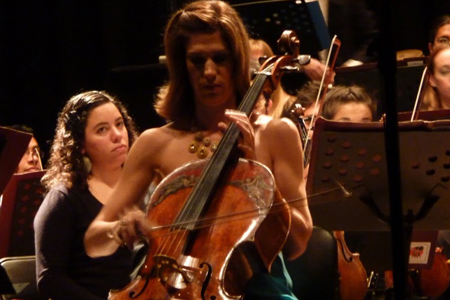 William: Please describe the recruitment process.
Hilda: We have an open admissions policy. Admission is by audition. Today auditions are done virtually. A repertoire is selected for each instrument. The candidates submit their performances via UTube. They send the work directly to us.
We accept musicians who are 18-30 years old. The average age of the current Orchestra is 22. This year, the 80 musicians in the Orchestra come from 21 countries in the Americas.
Our faculty selects the musicians based on their UTube submissions. We have a faculty of twenty who teach in institutions throughout the Americas or are instrument chairs in major world orchestras, like the Metropolitan Opera, Cleveland, Berlin Philharmonic, National Symphony, Boston Symphony. They represent the best in musical training and orchestral performance. For example three of our faculties are with the Metropolitan Opera Company of New York, six others come from major conservatories in the US and Europe. This year we received over 1,000 applications for eighty orchestra positions. We have the opportunity to pick truly great musicians regardless of their financial circumstances. We also have a training program for young conductors.


William: Who are your conductors?
Hilda: We have been very fortunate that some of the world's leading conductors have worked with us. Lorin Maazel and Valery Gergiev were very generous with their time.  Gustavo Dudamel, now the Principal Conductor of the Los Angeles Philharmonic, gained his first experience with an international orchestra was with us. Carlos Miguel Prieto Music director of the National Symphony Orchestra of Mexico and the Louisiana Philharmonic has been with us since 2002 and continues to play a central role as our leading conductor. He conducted the Orchestra at Carnegie Hall earlier this year and in Brazil on the current tour. Dante Anzolini, Music Director of the Opera Theater of la Plata, Argentina conducted the tour in Ecuador and Peru. Placido Domingo, our artistic advisor, conducted the Verdi Requiem in Munich, Helmut Rilling conducted Haydn's Mass in St. Peters Basilica, Kent Nagano conducted St. Mathews Passion in Sao Paulo, Jean Pascal Hamelin just launched a successful live recording "From the New World "with YOA, and so many more.


William: You have been able to attract some great soloists to perform with you? Please tell me about some of the highlights.
Hilda: This season Joshua Bell, violinist, played with us several times, both in New York and South America. Philip Glass worked with us on the premier of his cello concerto. It was premiered and recorded in Quito by Wendy Sutter, who also performed in Lima during our tour. The performers and composers enjoy the freedom and flexibility we offer. We hope to establish close long term working relationships with some of these great artists. Gabriela Montero, the Venezuelan Pianist as did Jose Franch Ballaster, clarinetist joined us for the tour respectively last year and this year. In the past we have played with Yo Yo Ma, Nelson Freire, Paquito D'Rivera, Antonio Meneses, Matt Haimovits, Julian Rachlin and many other world famous musicians and singers.
William: Please describe your organization
Hilda: We are very lean and mostly virtual. In fact Wiki Economics is now writing a case study on the Youth Orchestra. We have a full time staff of four. Our General Manager is Nina Weir; our Artistic Manager is Mark Gillespie.
The Orchestra is virtual except when we are conducting a tour. Each year, with the exception of 2007, the entire orchestra has gone on tour in the Americas and one year in Europe. We have played in the great halls of the world including Carnegie Hall in New York, The Kennedy Center in Washington DC, the
Berlin Concert House, the Munich Concert Hall and St Peter's Basilica in Rome, as well as most of the great concert halls of Latin America like Teresa Carreno, Teatro Colon, Teatro Alfa, Bradesco, Casa de la Musica, Teatro Municipal.
This year's tour is the longest with the most performances. Before each tour the entire orchestra and staff gather to rehearse. This time also provides an opportunity for our faculty to join us and share personal time with the musicians. This rehearsal residency time is an essential part of the educational process. Each year we have gathered in a different location. My hope is that someday we will find a more permanent site. This year it was in Villavicencio, Colombia, last year in Boston at The new England Conservatory, in 2008 it was in Bahia, Brazil, the prior years it was Venezuela, Brussels, Costa Rica, Mexico, Boston, Washington DC.
 

Hilda: Our annual budget is in the range of two million dollars of which about 1.3 million is financed in-kind by presenters in each country, who capture ticket sales. Most of the cost is supported by private individuals, corporations, and foundations. We also receive some funds from the National Endowment for the Arts and the Washington Mayor's Commission on the Arts and Humanities, for music teaching programs we have done in Washington DC public schools. The Inter American Development Bank Foundation and the Andean Development Corporation have provided several scholarships over the years.

 

We are not supported by direct ticket sales as is the case with local orchestras. Typically the costs of a performance in each city are financed locally and the local organizers receive the ticket income. The local groups rent the hall and pay our room, board and transport locally. Our major expense, close to $600,000, is for international travel. We also pay our soloists faculty and conductors. Our administrative overhead is relatively low at about $350,000. We also have an online store www.yoa.org. You can buy CDs and download many of our performances from iTunes and the internet.

 

We are an IRS approved 501 C3 not-for-profit organization and contributions are tax deductible. We have obtained tax exempt status in Canada, Venezuela, and Costa Rica.  In other countries we have arrangements with local foundations to process donations on our behalf.

 

William: What are your plans for the future?

Hilda: I see us operating a six lane musical superhighway, three lanes in each direction.

 

In the first -and fastest- lane is music training at the highest level. We train each of our musicians to perform at the peak of their abilities Eight weeks of training with YOA is equivalent to one year of best-in-class conservatory training. But we also teach the musicians to train others. Giving back to their communities in the Americas is central to our mission. Training works as a fast two lane highway.

 

The second lane is networking. We build what will be a lifelong support network amongst our musicians, conductors and faculty. This network provides a firm basis of support for the rest of their careers. But the network also extends back into the countries and communities of origin of each of our musicians. They tie members of their own community into a broad network of international orchestras, both full time and youth orchestras. They also provide access from the local communities to our entire network. Networking is the second two lane "mid-speed" highway.

 

The third two-way highway is civic leadership. We believe that the excellence, co-operation and management skills imbued into each musician in the orchestra translate to leadership in all areas of society, the arts, business, and politics. We benefit from the leadership of fine musicians from all over the hemisphere. We are convinced they will return to help strengthen civil leadership and strengthen the institutions of free societies wherever they go. The leadership lanes take a lifetime to develop but they bring true change to a whole generation of people.

 

This is our six lane highway to the future!!!! It's a great investment in human capital infrastructure. And some of the results you see very fast, in a matter of one to two years.  The speed has been truly amazing-as has been the case with the Young Philharmonic of Colombia. It took one year of hard work to launch it and it is now performing to a very high standard. We feel very proud of helping to make it possible. It has also been the case with many of our musicians who have found full scholarships in major conservatories after only one year of joining YOA. This is a great return on investment.

 

William: Thank you for your time.

Hilda: Thank you for your interest and support.

 

 

William: How are you financed?