A Great Interview Just Now on 'All Things Considered'
Melissa Block was part of the NPR team that happened to be in Chengdu for pre-Olympic China coverage when the devastating Sichuan earthquake occurred in May, 2008. She has done a number of China features since then -- including an interview this afternoon on All Things Considered with the author of a new book on what you learn about China by learning Chinese. The story and audio are here.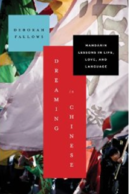 Even if that author weren't my wife, Deborah Fallows, I'd think it was a great segment. At this point, I realize I've exhausted my quota of decent opportunities to describe events for and reaction to her book. So with parting links to
this nice item
about the book in Oprah's magazine,
this one
in National Geographic Traveler, and this one in
Asia by the Book
, I refer you for further info to Deb's
own site
. It now has some entries on why it's worth the bother of trying to learn this language, and it will eventually have info on her upcoming book events on the west and east coasts.