Nuela: A New Latin American Cuisine
This new South American style not only presents a strong culinary presence, but also demonstrates the regions economic and cultural significance
An untold chapter of the wealth of nations is the concomitant invention of a new cuisine. The past decades have been witness to successive waves of international restaurants, each marking the ascent to power of the nation of origin -- think Japanese, Korean, Thai, Indian, Vietnamese, even Californian. By this measure the June 8th opening of Nuela (short for Nueva Latina) in Manhattan signals a new phase in the rise to international political and financial power of South American nations. Nuela provides an exciting blend of flavors styles from South America, what I call Pan American Fusion. New York has not had such an elegant offering since Fonda da Sol closed its doors on the ground floor of the Time Life building in the early 70s.
 
Nuela is more than a restaurant; it is a statement of South American unity and fashion.  South Americans from all nations will recognize the flavors.  Favorites from Venezuela, Columbia, Ecuador and Mexico populate the menu. If the cuisine of one country dominates, it must be Peru. There is a separate cerviche menu offering 18 different types of lightly marinated sea food including: fluke preserved in lemon yogurt, black olive with fish chicharron (fried skin); mackerel with creamy kosho, butter lemon cups and lychee; sea urchin with basil, honey yuzu and fresno chili-each delicious. The closest comparison that comes to mind is the inventive sashimi "Sushi of Gari" on the upper Eastside.  A wonderful light dinner can be had "tapas style" at the cerviche bar.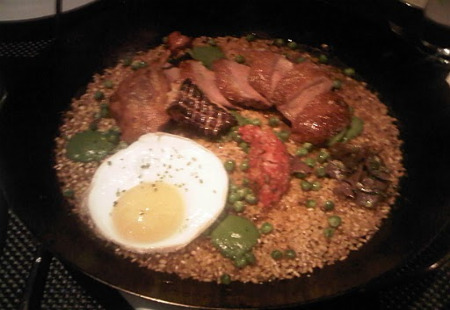 William Haseltine
There are eight different categories on the menu in addition to cerviche and dessert. Picos are small starters. The fois gras croquettes with gingersnap and rum are a revelation (warning eat in one bite as the flavors literally burst in your mouth!). Antichurchos, Emapanadas Bocadillos are all warm starters and include: beef heart with aji panca and confit potatoes; octopus and pork belly with shisito mayo; chifa with pork and rock shrimp in a curry mustard emulsion; smoked brisket arepas with plantains, black bean and queso blanco (served vegetarian with a smoked mushroom option). The salads and soup are fresh and delicious and include: shaved hearts of palm, smoked dates, farofa with coconut vinaigrette and a spicy soup of crayfish and rock shrimp with yucca, potatoes and poached egg. Main courses are labeled Platos and those to share Para la Mesa. We tried two "Mesas",  Whole Market Fish, presented without bones served with hearts of palm, ginger, radish, scallion, cilantro and a surprising roccotto soy dipping sauce (a happy fusion of Peruvian and Asian flavors) and Arroz con Pato a combination of crispy duck breast, roasted fois gras, verde rice and soft duck egg, as delightful to see as to taste. The chef, Adam Schop, is from the United States, but has perfected and enhanced the best of South American flavors. 
 
I was invited to a "soft opening" of Nuela by Angel Sanchez, the noted Venezuelan fashion designer, who together with Christopher Coleman, designed the exciting interior.  Fabrics are emphasized as you might expect. The dominant color is a bright and flattering orange. The art is vibrant, the music contemporary South American. The lighting and sound levels are just right for comfort and pleasure. With Nuela, a vibrant Latin American cuisine has come of age in New York.
 
Nuela is located on 43 West 24th Street (just off of Fifth Avenue) telephone 1 212 929 1200.