Mexico: The Franz Meyer Museum
The Franz Meyer Museum is a unique collection of European, and Colonial Mexican decorative and fine arts. It was assembled by one man, Franz Meyer, while living in Mexico. The collection, along with enough money to maintain it, was left to the museum. The building is centrally located, not far from the Palace of Fine Arts. The museum itself is a beautiful early colonial building. The entry is flanked by two churches, each built atop the remains of an Aztec temple. The feel is reminiscent of the Gulbenkian Museum in Lisbon, also an idiosyncratic collection of one man. There was a temporary exhibit on the ground floor.
 
Temporary exhibit: Van Buren and the Mexican Bauhaus
Van Buren was originally Dutch. In the early 1930s he attended the Bauhaus and intended to become an architect. He studied with Mies van der Rohe and Joseph Albers. When the Bauhaus dissolved in 1933  van Buren went first to New York and then emigrated to Mexico where he spent the rest of his life. He had difficulty working as an architect without a license in Mexico and soon turned to interior design. His early work is heavily influenced by the Fontana Arte movement of Post War Italy. He even named his firm Domus after the magazine founded by Gio Ponti and associates. His later work was for Danish firms and is in the modern tradition.
 
The permanent collection:
The permanent collection is organized by categories. Each section is clearly labeled no matter how few objects it may include. For example the section labeled German art contains only one painting. Other sections have may contains fifty or sixty works.
I bean with European painting. At e entry is a truly extraordinary screen, one side depicting Mexico City in the 17th Century, the other a vivid rendering of the battle for the City. Cortes both in battle and triumphant is shown. In the battle the Aztecs seem to give as good as they get.
 
Spanish Painting:
There are some fine paintings here by well know masters. Ribera, Zurbaran, Sorolla and Zabaleta.
Dutch/Flemish
These include works by Jean-Baptiste Martin, Sustermans, Van Harthorst and Franz van Miers
New Spain
These are not designated as Mexican or otherwise. The collection includes works by Maria Josefa Tonio y Estrada, Miguel de Herrera, Jose Maria Velasco (a noted painter of early Mexico City landscapes, and a very early Diego Rivera  landscape, 1904.
Decorative Arts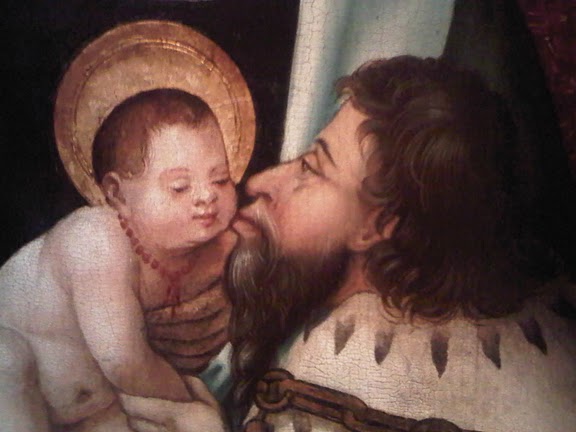 William Haseltine
These paintings are followed by an extensive collection of European, Asian, and New Spain Decorative arts. Of special interest are some of the wonderful ivories from the Philippines.
For the Glory of God.
There was a temporary exhibit of ecclesiastic vestments from New Spain on the ground floor, housed here while the National Museum is undergoing restoration. The workmanship of these vestments is spectacular.
 
The Franz Meyer museum is worth a visit if you are in a museum mood and in the neighborhood.