On my recent visit to Mexico City I visited the very pleasant neighborhood of Coyocan. The area is named for the coyotes (coyotle) that used to inhabit the region.
This is one of the earliest settlements of the Spanish. Cortes and his officers built spacious homes here, many of which are still standing and occupied. Each is enclosed by a high protective wall. They have an attractive open architecture with large enclosed gardens. Most of these homes line one of the most attractive streets of the city Avenida Francisco Sosa. Cortes" home is to the side of the beautiful square. Two playful bronze coyotes decorate the central fountain.
Octavio Paz, the diplomat and poet, occupied one of the homes which is now open to the public. The gardens of Mexico and India are a subject of some of his most engaging work. The house itself is a delight. It was once the home of Alvarado, one of Cortes' most brutal associates.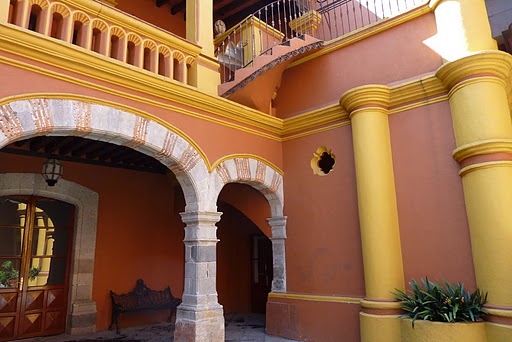 William Haseltine
Casa Azul, where Frida Kahlo was born and later lived with Diego Rivera from 1929 to 1954 is also in Coyocan, not far from the Central Square.  Like all the houses here t stands behind a high wall, here painted a deep and vibrant blue.
The house now serves The Frida Kahlo museum. The lower floor houses a collection of her painting, drawing and rough sketches. Diego Rivera's small bedroom is on the ground floor. A rifle rests next to the bed.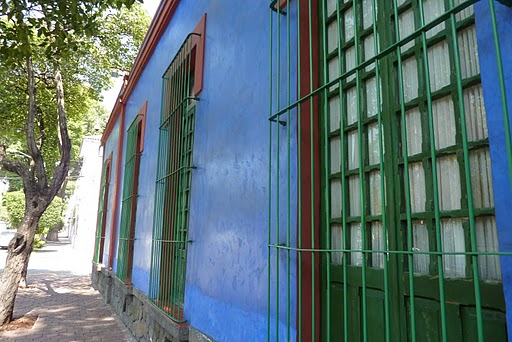 William Haseltine
The house and garden are filled with colorful folkloric objects as well as rough pre-Columbian stone work. Rivera erected a small pyramid in the garden and constructed an elaborate fire place in the form of an Aztec Temple.
Frida's studio is a spacious room that overlooks the garden. Her wheel chair stands before and empty easel, her paints and brushes remain on a nearby work table. Cabinets that line the one wall are filled with books and objects.  Above the cabinets is a series of larger than life portraits Diego Rivera making comical and menacing faces. Medical illustrations, including those of the life of an embryo in the womb decorate the wall.
This is obviously the home of an invalid. Medical implements and syringes occupy a central vitrine. Frida's constrictive back braces, some fancifully painted stand on tables near each bed. Both the bed and daybed a rigged for traction and so that she could work lying down. Posters of communist heroes, Marx, Engels, Stalin, Mao surround both beds. Directly above her bed, visible while prone, is a collection of beautiful butterflies.
Across the garden is a second building that now houses a temporary exhibit of Frieda's photographs. These document her life as a young girl, her father's career as well as her life with Rivera.
In this home you can feel Frida Kahlo's pain, desire for life, her politics, he love for Rivera and her pain as well the powerful creative forces, rooted deep in Mexican life and culture that animated both her and Rivera's lives.