Dinner at El Bulli: A Metamorphosis Towards Essence
Last December I had the great pleasure of dining at El Bulli, shortly before it closed for a two year hiatus.
The description that follows is a memorial to a great restaurant, one I hope will re-open sooner than later.
 
 El Bulli is Ferran Adria's restaurant located in Catalonia on the Bay of Roses not far from the French border. The site is tucked into the side of a small cove, surrounded by pines and steep hills. The sound of the waves is gentle, the air pure. It was a cool clear night. The light of first night of the full, blue moon lit the bay and silhouetting the high surrounding hills.  The restaurant is elegant simplicity itself, the stone walls of the entry could have been crafted by Andy Goldsworthy.
 
We were greeted by Ferran who showed us into the kitchen, two large open spaces, one the warm the other the cold kitchen. Fifty five young men and women, worked intensely on preparations. We were seated promptly and the food began to come quickly. The pace was rapid, efficient but unhurried.  There was little time to talk other to express amazement and appreciation. The space was open, quiet with no more than 30 guests.
 
The plates and serving dishes are created yearly, each designed especially for each course. The portions are small but many. The menu corresponds roughly to cocktails, aperitifs, entrees, main course, pasta, desserts, after dinner sweets-all re-invented. There is no silver on the table. Most foods are eaten with the fingers. Some portions are supported on thin transparent paper.  Small specialty implements are supplied as needed. The black clad waiters, precise and numerous, carefully explain the ingredients and how best to eat each course.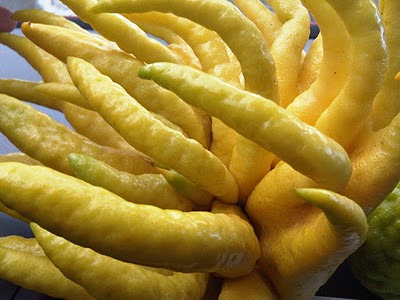 William Haseltine
Courses
 
Drinks
 
1 Cactus margarita:
Cactus leaves from Mexico are soaked in tequila and lemon, sprinkled with salt and served in a cup of finely crushed ice. You eat the cactus leave. A cool lemon tequila flavor is enhanced by the succulent green taste of the cactus leaf.
 
 
2 Sugar cane mohito/caiprinha:
Small strips of sugar cane from Ecuador are soaked in cane alcohol decorated with shaved mint served on crushed ice. You crush the cane in your mouth, and suck the liquid. Cool and delicious!
 
3 "Handkerchief" "panuelo" or corn paper:
A very thin, semi-transparent, crispy corn paper is folded as a napkin. Toasted crunchy corn kernels and flakes of sea salt adhere to the crisp-eaten with fingers-a novel taste of corn and crunch.
 
4 Snow fizz:
This is a gin fizz served is a snow white fine foam swirl served in an elegant wooden box.   It is grasped between the fingers, and eaten/drunk in two bites. It tastes as if it were snowing gin fizz.
 
5 Te de uva y cassis (grape tea and cassis):
A warm vodka drink prepared as if it were tea in a formal Japanese ceremony. The cassis powder is mixed in a beautiful bowl, black on the outside lined with bright metal.  Hot grape and vodka tea is slowly added as the mixture is stirred with bamboo whisk- a novel and happy taste of tea, cassis and vodka of divine color. 
 
6 Camron:
Small shrimp from Galicia served steamed on a bed of Galician seaweed. The shrimp are steamed over boiling tea and served in a bamboo dim sum rack-tender and aromatic.
 
7 Sea anemone with caviar:
A light grey sea anemone from the waters of Cadiz is presented on a gold flecked slip of glass, topped with translucent caviar, served warm. The anemone has a surprisingly firm texture-the taste of the waters of the world.
 
8 The Gorgonzola Globe:
This appears on the table as a white globe, somewhat bigger than an ostrich egg.
It is made of a mild gorgonzola, liquefied and frozen on the inner surface of a spherical balloon. It is dusted with nutmeg powder before serving. The thin frozen shell is cracked and eaten with fingers. The combination of cold, creamy gorgonzola and fresh nutmeg, together with the stunning presentation, makes this delicious to all the senses. A signature serving!!
 
9 Campari:
A thin lacy, rose tinted transparent wafer of Campari frozen, dotted with buttons of yellow and red fruit extracts, is eaten with fingers. This is presented on a folded wire mesh in the form of a paper plane. A Campari daiquiri delight!
 
10 Cherry umeboshi:
Four large half cherries served of a folded metal sheet. Each cherry is cradled in a crevice. The cherries hold a cherry concentrate. The impression is essence of cherry, a reminder of all the best cherry tastes I have ever had, a summoning of festive memories and lazy summer afternoons.  A Proustian experience! 
 
The next set of dishes, 11-14, was served together.  They are all reconstructed versions of the original foods, comprised only of the foods themselves, in a way that presents the essence each flavor. The flavors are all natural yet punched up in intensity. The textures and appearance of each food is also enhanced. These are small, brilliant culinary gems. 
 
11 Mimetic peanuts:
Each serving has the appearance of a peanut in a shell. The shell is reconstructed and dusted with peanut powder. Within is a creamy liquid that has the essence of peanut taste and texture.  The crunch and creamy nature of peanut revealed anew- a minor miracle. 
 
12 Olive surprise:
Each is served on a small spoon with a tiny handle. They have the appearance of smooth light green olives, but are not. The tight thin but resilient skin surrounds a smooth liquid cream of olive essence that explodes in the mouth. The oil and bite of an olive is reproduced and enhanced. This is olive carried to a heavenly sphere, an olive re-imagined. They served us twice!
 
13 Sesame wafer:
 A round wafer of powdery sesame topped with micro spheres of black sesame paste droplets.  They looked like small cakes and were pure sesame in taste.   
 
14 Parmesan Crystal:
This is another of the paper constructions. It is a clear, crisp deep golden paper that tastes of clean toasted Parmesan.
 
15 Flower nectar:
Two simple flowers are presented on a white plate. They look like honeysuckle but are "Fluer de Fuego" or bells of fire. They are soaked in nectar. You are meant to drink the nectar that drips from each flower.  
 
16 Coconut sponge:
A cube of white spongy foam five centimeters a side is served on a thin paper. It is eaten in two insubstantial bites-a fresh breeze from the Caribbean.
 
17 Raspberry cookie:
A paper thin crisp wafer of raspberry floats over a wire mesh. The first bite has a tiny drop of wasabi, the second not. The color is as rich as a great burgundy. Raspberry and wasabi are a surprising complement, eaten with fingers.
 
18 Tea biscuit:
A small black/green tea cake is topped by teased and separated individual pulps of finger lime presented, as if they were caviar. This is micro surgery in the service of cuisine-memories of tatami mats and summer limes.
 
19 Apple meringue sandwich (Boccadillo de manzana):
Very small yet still crunchy apple slice with nuts is served between two halves of a small, airy meringue loaf, scored on top as if it were a tiny baguette.  Two delicious mouth watering crunchy flavorful bites. This is served on one of the sets of glass plates. The glass plates have a raised and molded edge with subtle embedded colors the flat of the plates, bowls, and cups are also lightly colored, no two identical.  
 
20 Canapé of ham and ginger: 
The ham and candied ginger are both sliced thin and are a clear rich honey yellow. The eye cannot distinguish one from the other. The taste is pate negre and honey ham, the texture honey covered crisp.  An almost imperceptible ginger shoot lies on top-the essence of pate negre.
21 Montjoi Lentils:
A lentil soup served in a fluted fold of clouded white glass. Tiny purple flowers float on the surface.  The "lentils" are in fact spheres of emulsified lentil paste, dropped into hot broth. The lentils beads enhance the taste and preserve the slightly chalking texture of the original pulse. The closest we come to comfort food and to "molecular cuisine".
 
22 Tartar of Marrow:
A mixture of marrow and oyster tartar under foam, served warm. The mixture is layered an oyster leaf from a Chinese plant with a tiny spoon. The flavor is an extract of marrow and oyster. The contrast of textures is entirely novel.  The dish is served in an oyster shell on a bed of warm grain salt, supported in flat metal bowl above a delicately ribbed plate atop a folded golden metal plate-a feast for the eye a palette.
 
23 Prawn in two firings:
A single prawn prepared three ways. The head of the prawn is reduced to a rich soup served in the bowls of tiny spoons. The legs are crisp fried, the body steamed. The shrimp head soup was the only down note of the meal. This was not disappointing. My most spectacular failure as a family cook foundered on the same shrimp head. I tied to make a sauce by blending the heads. The same astringent taste remained!). Vilified for years for this failure by my children, I am at last redeemed at last by the failure of the greatest cook of our time. Shrimp heads as a stand alone are not to be eaten!
 
24 Wood pigeon:
The wood pigeon is served two ways: a warm rich armagnac consommé in a snifter, rich and satisfying, and in the form of a chocolate covered maple leaf crisp served on a round oyster shell glass plate. It was hard to find the pigeon under the chocolate. Perhaps it wasn't there.
 
25 Tender Pistachios:
A pistachio tour de force! Pistachios served five ways.
Giant green and roasted pistachios, pistachio shaped creams and gelatin under a brilliant clear green pistachio sauce, accompanied by a truffle ice cream swirl. This is another signature dish. Here the reality and essence of pistachio contrasted. The greens of the sauce and mousse, the rich browns of the roasted seeds and truffle ice, the creamy clarity of the mousse and sauce, the crunch of the nut and truffle bits, the shape and musk of the gelatin and truffle-a pistachio treatise on plate. 
 
26 Land Fin:
Pumpkin served as if it where shark fin. The pulp of a fibrous pumpkin is teased and splayed upon a plate as if it were the cartilage of a fin. It has the same gelatinous quality. It rests on a rich golden brown sauce in a smooth broth. The taste reminds us that the pumpkin, in addition to the texture and appearance of a true fin, has a flavor of its own. Might this pumpkin save the world's sharks?
 
27 Cockles with Yuzu:
This is the roughest of servings in texture and preparation. An entire cockle is presented under a transparent sauce on a white plate. Nearby is a raw sliced fennel stalk with a fennel sauce. To the side is a wedge of marinated Japanese yuzu (a lemon like citrus) with its own sauce and two clear strips of a red brown glaze decorate the plate.  The flavors are strong and natural.
 
28 Soya milk with soya:
This is to the Soya bean what the pistachio dish was to the pistachio.
Sets of three of four types of soya bean, differing in size, color and texture are presented, intermingled with soya sprouts and flanked by two forms of fresh soya curd. A thin strip of soya skin plucked from atop heated soya milk is decorated with small drops of different colored soya pastes and a light sprinkle of dark soya crumble. Warm soya milk is ladled over the milk skin. The plate has two smears of fermented dark fermented soya paste.
 
29 Roses and artichoke:
The presentation resembles an open flower decorated with a patch of silver foil. The petals are fragrant Peruvian white roses, marinated as a carpaccio, tender and translucent. They are picked as artichoke leaves and eaten whole. The center of the flower is contains a delicate mousse (rose/artichoke?) It is served with very light vinaigrette. The taste is of a very delicate rose. After eating, one of the original intact white Ecuadorian rose is presented on a silver platter for us to smell. The rose is grown on the slopes Cotopaxi, a volcano usually lost in high mountain mists.  The scent is concentrated rose, stronger than the flavor just experienced. Later, the mind confounds the taste and smell.  This is the dish to eat in the bay of Roses
 
30 Hare Brain:
Hare brains served in a deep gold flecked glass bowl, in a rich brown sauce, topped with tiny oyster flowers-rich, soft, warm, delicious, a perfect serving for a windy fall evening.
 
31 Hare chop:
The tiniest of chops. The bone is straw thin. The chop is encased what seems to be a raw hare meat paste, topped with a grey jelly (myrtle?)-great taste and surprising contrasts of texture.
 
32 Hare tenderloin:
Two tiny tenderloin medallions. First a rich brown sauce was spooned over the medallions. Then what seemed impossibly thin, chocolate dusted ravioli were gently laid atop with tweezers. Drops of fruit essence decorate the plate. The ravioli burst on touch releasing a clear broth of fois gras. A watch maker's meal, refined and rich.   
 
33 Broth in Water Chestnut:
A hare consommé is served in a hollowed roasted water chestnut, served on a bed of anise flowers. Bits of the chestnut are in the broth, served hot. A few spoonfuls of delicious soup with crunchy chestnut.
 
34 Pine nut Shabu Shabu:
Three small ravioli made of clear potato pasta are served on a rough clay slab. Each contains a different preparation of pine nut, liquid, creamy, crunchy. They are dipped into a bowl of elder flower broth before eating. There is a strong taste of pine resin-pine nut perfection.
 
35 Pine sprouts:
The pine nut Shabu Shabu is followed by a small pail of edible pine sprouts dipped in honey.  This is a  direct taste of the Middle East (honey and pine) without the pasta.  The pine dishes taste of the forest and reveals the essence of the pignole.
 
36 Cepes:
Large cepes served hot wrapped in cellophane. They are served with a clear yogurt jelly and an usmanaotes flower foam. This is the only serving that has enough mass to heat the tongue.  The cepes give a rich taste of fall.
 
37 Chicken skin canapé:
A crispy layer of chicken skin fried and covered with a sauce supports twin slices of breast bone cartilage, served on a wire mesh tray. The cartilage is soft and has a smooth but firm texture-a novel mix of flavor and texture. 
 
38 Game meat (caza) canapé
This is more than a canapé. A minced, steamed game pate is served in a bamboo dim sum steamer over a fresh leaf. It is accompanied by a small cooking bowl of gravy, and a paisley shaped pasta meringue. The pate is placed on the meringue before eating.
 
39 Drumsticks:
Tiny game bird drumsticks served on a tree bark curve-delicate and delicious.
 
The following three are a white truffle set.
 
39 White truffle snifter:
Initially the white truffle is shaved into a snifter. This course consists only of smelling the rich odor of the freshly sliced truffle-worth the drama.
 
40 White truffle ravioli:
Several soft miniature cheese ravioli are served in broth. The truffles are sniffed as the ravioli are eaten. This is accompanied by a balsamic button covered wrapped in gold foil. The smell imparts a flavor to the ravioli. 
 
41 Sweet potato "noquis":
Four bright orange sweet potato gnocchi are served over creamed potato. Only two of the gnocchi are covered with truffle slices. They are eaten alternating between those covered with truffles and those plain-a delicious combination.
 
Desserts
 
42 Pond:
A wafer thin membrane of clear ice  sprinkled with brown sugar and green tea powder stretches across the top of a bowl. The powdered ice is cracked and eaten quickly before it melts. Cool and refreshing-simplicity itself.
 
43 Marshmallow hamburgers:
Two small desserts are presented on a metal tray. They resemble tiny hamburgers. The buns are fresh marshmallows dusted with a light brown chocolate powder. Within are beads of chocolate. The "buns" are served on a folded metal plate-eating lightly sweetened air.
 
44 Passion:
A whole roasted passion fruit is presented on a bed of warm hot salt. Scissors are used to remove the top with a circular cut. The broth within is injected before roasting. It is scooped with a tiny spoon together with the passion pulp-delightful to see, taste and smell.
 
45 Pineapple puff pastry:
Pineapple bits served between two long clear ribbons of transparent crispy sugar wafers sprinkled with cinnamon, served on a long white glass plate-delicious, hyper crisp, sugar taste with a sharp after bite.  A wonderful; dessert invention.
 
46 Mollusks:
This desert is served on a bed of ice. Two frozen wedges of a fine orange type citrus are flanked by clams and small clam shells. Opening the shells reveals either a drop of fresh sweetened cheese paste or a rich ice cream-a surprising combination of experiences.
 
47 Mandarins:
Slices of peeled mandarin buried in a chestnut frill-sweet and happy.
 
48 Morphings:
The final serving is of small chocolate desserts presented in a large jewelry like box of dusky red plastic. The top open and drawers pull out of either side. Each chocolate is distinctive. A freeze dried strawberry is covered with a dried meringue,  raspberries and chocolates are molded into tiny corals, chocolates are shaped and colored  as green and brown leaves. In all there are 17 different chocolates to sample, each better than the last.
 
Reflections:
 
This was the best and the most memorable meal of my life (that is after fifty years of seeking the best foods around this great world of ours).  The experience is of a voyage to the  heart of the essence of food. Each ingredient is transformed to reveal its essence. The flavor, texture, color and internal contrast of each ingredient is highlighted.
The critique, leveled at this cuisine, is that it is "chemical", "molecular" somehow artificial. This could not be further from the reality. The foods are pure. Ingredients are not altered. The experience is that of purity not artificial alteration. The experience is aesthetic. The ambience and setting are natural. The serving is unobtrusive. Attention to color, texture, presentation is meticulous. 
 
We are in the presence of one of the great inventive geniuses of our times. His scope is food and flavor. Like all great inventors he acknowledges his sources, the tapas of Spanish cuisine (an unending array of small flavorful tastes), the preparation of Japanese cuisine, the global origins of foods with an emphasis on the local regional and Spanish sources. Yet his inventions are his own, often inspired by place, the sea, the mountains, the beauty of rugged Catalonia. After eating here, even the most refined of Japanese foods, French concoctions, Napa inventions, or Spanish tapas, seem crude.
 
In contrast to many of his disciples, the food here is delicious. Each course is distinctive, each course a unique blend of flavors and textures and each course wonderful to the taste, the nose, the mouth, the stomach, the eye. We ate for four hours non stop. We felt well fed but not over fed. The next morning, I was ready for a good breakfast.
 
I visited France and Italy just before and after eating at El Bulli. The reaction in France was almost universally hostile. "Molecular cuisine, chemical additives, presentation without substance, you will be ill, let me give you some bromo to take along, don't plan to work afterwards" they said. The Italian response was different. One friend had been there the year before agreed it was the best and the most memorable meal of his life. Others were curious without hostility. Could the difference is due to the fact that this greatest and most well know of the world's restaurants is not French and owes little to that great tradition?
 
In summary: an experience to be sought, a trip worth taking, a voyage to the essence of invention and taste. Let's hope El Bulli re-opens soon!