[Will Wilkinson]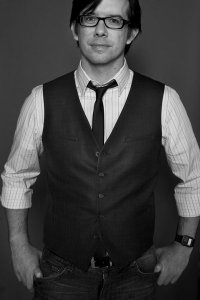 Hi, everybody. I'm Will Wilkinson. It would seem I have a great deal in common with my fellow guest-bloggers. Like Julian, I'm a research fellow at the Cato Institute who wears vests. Like Tim, I'm secure enough to admit that I'm a bottom-up sort of guy. Like Courtney, otters.
I happen to be in DC at the moment (for the happiest day of Megan and Peter's life), but I typically reside in Iowa City, Iowa with my fiancée Kerry Howley and our beloved Vizsla
Winston
, who I am sorry to say recently broke his leg thanks to
hideous modern architecture
.
I don't always blog, but when I do blog, I blog at my personal site,
The Fly Bottle
. I'm currently working on a book with my colleague Brink Lindsey tentatively titled
The Free Market Progressive: How We Can Use Capitalist Acts Between Consenting Adults to Create Peace, Prosperity, and Justice. 
I've written a good deal over the past few years about
the policy implications of "happiness research,"
and about
how to think about economic inequality
. As for McArdle-related activities, I was for a time one of the bloggers for
The Economist's
 Free Exchange blog immediately following Megan's departure from that august institution, and I have been injured in the line of duty as 
Megan's sous chef
.
The opinions I express are mine alone, and should not be attributed to my employer, my fiancée, or my dog, a reactionary who pines for the restoration of the Austro-Hungarian empire.