Turning Mean Streets Into Green Streets
>In Kansas City, Missouri, 150 blocks of downtown real estate have been in decline for more than four decades. One out of four properties is a vacant lot and one out of six is an abandoned structure. Unemployment, now 11.7 percent citywide, is estimated to be as high as 50 percent in this area. Few homes are owned by the people who live in them. Those who do own homes face a nearly 20 percent delinquency rate on mortgages, despite the fact that median home prices are under $30,000.
There's new hope in this urban core with the Green Impact Zone, a project fueled by community engagement, environmental initiatives, and $50 million in stimulus funds. The project aims to turn a depressed area into a thriving and sustainable community by introducing coordinated policing, offering employment and training programs, promoting home weatherization, and installing a smart energy grid.
Anita Maltbia, the former assistant city manager for Kansas City, is the director of the project. She spoke with The Atlantic about changing the way downtown dwellers live, work, and consume energy.
---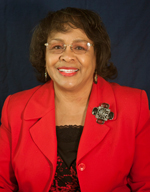 What is Kansas City's definition of green?
We define green in its broadest sense, as a symbol of verdancy. We're working with the residents in these 150 square blocks in the core of Kansas City, helping them raise the quality of their lives. And at the same time, we're drawing on the whole energy and environmental revolution that's occurring in our country.
What do these 150 square blocks look like?
They're mostly residential, but there are some commercial areas. Some large streets run through the area. It's suffered disinvestment for almost 40 years, so it doesn't have the level of commercial support you would expect for an area of this size. There have been a lot businesses leaving over the years.
Whose idea was this project? Where did the funding coming from?
It was an interesting alignment of the planets. The architect for the project is Emanuel Cleaver II, a U.S. Congressman for the fifth district in Missouri. He had been a city council person and a mayor, so he had intimate knowledge of the history of this area. A new administration had come in and tried to pump money into the communities, and there was the emerging notion that you do have to embrace energy conservation. It was Cleaver's suggestion that we capitalize on the stimulus funds.
The Green Impact Zone is also part of a grant that was awarded about three weeks ago. It's an energy-efficiency conservation block grant from the Department of Energy, and it will provide people with funding for energy retrofits on their homes. We're also retrofitting an old building in one of our communities that will become a neighborhood center and energy contractor incubator, providing office space and training offerings for energy contractors. And we're part of the TIGER transportation grant--we're going to be using $26-plus million for infrastructure improvements and $24 million for transportation improvements.
What are the goals of the Green Impact Zone project?
The goal is to raise the quality of Kansas City residents' lives. But when you have a big overarching goal like that, you have to do some very measurable, achievable things in order to know whether or not you're making improvements. We do have some very tangible goals. Home weatherization not only deals with energy conservation; it results in people having more income to use toward other things.
Another goal is job training and job acquisition. When people are able to feed themselves, then of course their quality of life is improved. And the green revolution means there are a lot of new businesses and jobs opening up around energy conservation. We're part of the Kansas City Power and Light Smart Grid grant. That's going to introduce people to energy conservation in a very tangible way.
Let's talk more about the smart grid. Why does Kansas City need a smart grid?
Well, actually, a smart grid is the way we're all going to be living, whether you're in Kansas City or you're in Tonganoxie. Kansas City Power and Light is really somewhat of a pioneer in having won that grant. What's really interesting and unique about it is that they chose to begin this work in an urban core environment. Typically, when new, innovative things come along, urban core areas tend to be at the end of the line, not the beginning.
How will the smart grid change the way residents use energy?
People are going to have smart thermostats. We're going to change out the metering system and improve the distribution of energy. People are going to be taught how to monitor their energy usage in real time, because right now, if you think about it, when you get your utility bill, it's kind of a surprise. You've already burned up X number of hours of energy and you only get the bill afterwards. So we have this big broad vision, but we are doing it through very tangible, measurable approaches, all based on the green revolution. Part of the smart grid plan also includes installing solar panels on the high school that's in the Green Impact Zone. Capacity building that leads to sustainability is definitely the goal.
Are other cities planning projects like the Green Impact Zone?
There are aspects of this that are happening throughout the country, certainly, but this particular combination is fairly unique at this point. We're hearing that there are other cities interested in establishing their own Green Impact Zones. The president has mentioned us two or three times in some of his speeches regarding stimulation efforts and conservation efforts. The vice president gets our 45-day report detailing what we're doing.
What's your personal favorite part of the project?
Housing redevelopment issues make me happy. Housing fulfills needs, but it's also very visual. It inspires people to take the reins. I'm also very excited that we're finalizing a youth component for the initiative. We're teaching young people about energy conservation, giving them exposure to and experience with the subject matter. We're starting with 30 to 40 kids, and those kids will tell other kids, introducing them to energy conservation and talking to them about life choices.
We're also really excited about our Community Crews. This is where young people are taught skills, namely concrete finishing. Out of that, we've now had two young men who have been tapped to become apprentices in the concrete finishers' union. That's really huge.
How are Kansas City citizens responding to this project?
The response has been good. But you have to help people embrace the notion that this is not just another feel-good, do-good program. We're not so much about doing stuff for people as we are helping people to learn and do for themselves. This is something that's going to require the residents' participation and leadership. We've had two zone-wide events with information expos, and we had a good response, over 500 attendees at each event. We've had phone calls, foot traffic picking up, people coming in and asking about weatherization and the smart grid. People are very expectant, but also very anxious to see things happening.