Toward a Manifested Courage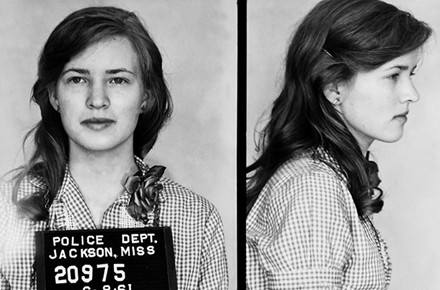 They too needed emancipation...
--Ulysses S. Grant
This is Joan Trumpauer Mulholland's mugshot. She is the woman below whose sitting at the Woolworth counter with canister full of sugar emptied all over her. I got this photo from the
website
for the book
Breach of Peace
, which is itself an arresting  and stunning artistic feat. It is the work of photojournalist Eric Etheridge who took it upon himself to track down as many of the freedom riders as possible, and pair their mugshots with present photos. I urge you to both check out the blog, and cop the book.
I was surfing through Eric's site yesterday while working on the Rand Paul entry when I came across this letter, in which a superintendent of the jail where Mulholland is being kept, writes her mother. Mulholland says her mother was a "unrepentant segregationist." Here is the
superintendent's reply
:



I have your letter in regards to your daughter Joan Trumpower. 




If there is any medicine you want her to have, if you will send it we will see that she gets it.




Your daughter is receiving plenty of food, has been provided with a toothbrush, tooth paste, and whatever else she actually needs.




I notice that you state that as a mother of a minor that you want to be notified in the case of any emergency. What I can not understand is why as a mother you permitted a minor white girl to gang up with a bunch of negro bucks and white hoodlums to ramble over this country with the express purpose of violating the laws of certain states and attempting to incite acts of violence.




If you are concerned enough, you could post bond for your daughter and have her released. Such action will have to be taken up with the Sheriff of Hinds county, Jackson, Mississippi.
I don't mean to pick on Rand Paul over this courage point. When I was at Howard, a certain kind of Negro was always big on talking about what he "would have done." As in "Ain't no would have been a slave," or "I would have been with Nat Turner." I just used to think, "Nigga, you wasn't going do shit but pick that cotton." 
Sorry, I digress. 
I've got the movement in my blood, but no way can I imagine being white, nineteen, violating the law, and being sent off to jail. In Mississippi. As I understand Mulholland went on to transfer from Duke to historically black Tugaloo. 
We need to be careful about talking up what we "would have done." It's easy to talk that shit now.