Tech update fiesta #1: Nexus One phone
Have a long queue of tech items to catch up on -- before returning to "Going to Hell," China-US relations, new small-plane developments, beer, and, yes, "work." First up on the tech front: Nexus One phone, as previously mentioned here.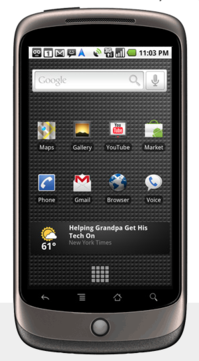 I could try to be fancy in introducing my comment, but why bother: This thing is great. It's now been eight weeks since I switched my SIM card from a perfectly good Blackberry Curve to the Nexus One to see how it worked. I've never thought of switching it back and no longer have any idea where the trusty little Blackberry might be. (Sorry, BB! It's not your fault.)
My one big complaint remains: typing on the on-screen "soft" keyboard, like an iPhone's, just is a nuisance. On the other hand, the voice-recognition software is usable enough that more and more I rely on it instead of typing -- for Web searches, to dial phone numbers, to give map and navigation instructions. Medium complaint: the battery makes it through a full day of use, but just barely. On the other hand, the battery is easily swapped out, unlike an iPhone's, so in theory you could take a charged spare. Small weird complaint:  most users I've spoken with mention that it's surprisingly hard to figure out how to keep the phone-call ringer ON while turning the email notification ringer OFF. Yes, there's a way -- it's just not obvious.
In other aspects, this is great and better the more I use it. Seamless integration with Gmail, Google search, and Google's calendar, task, maps, and voice functions -- as you might expect.  Somewhat more surprisingly, a full and sharp version of Google Earth; plus, a voice-powered Google Translate function that spans a very large number of languages and, on the ones I have tried, works better than I would have thought. (You say a phrase in English and it gives you, say, the Chinese version -- in characters. Hasn't worked so well when we try to speak Chinese into it! Maybe that shows it actually is working....) Also integrated with, gasp, non-Google functions: Pandora, NPR and NYT news, lots more.
The "Navigate" function, with spoken-out driving directions, led me astray once -- the first time I used it. I was heading to the airport in Duluth, a route I actually knew, and it steered me onto a road it didn't realize had been closed. Since then, flawless.
After the jump, a recent paper from inside Google about other aspects of the phone. It's important to note again that I never used an iPhone so can't do head-to-head comparisons. But on its own this is a real contender.

___
Everything below is from a Google memo about extra features of the phone. With allowances for promotional lingo, some useful info, FWIW:
"Some Cool Tips and Tricks(some documented some not)
Press and hold the search button (the magnifying glass in the lower right corner) to activate voice search.  If you want to call someone, say "call" and the person's name.
Touch and hold the dots on the bottom left and right of your homescreen to see all five homescreens at a glance.  Tap on a screen to jump there.  
Your photo gallery can automatically synch with your Picasa web album.  Go to settings, select accounts, then select your gmail account and click on sync Picasa web albums.  Now when you go to the photo gallery you'll see your Picasa album.  Also, if you take a picture you like with the phone, it's easy to share it via email or upload it to Picasa or Facebook.  Just click on the menu button and select share.
Get minute-by-minute weather forecasts with the Weather widget.  Launch the weather app and click the "information (i)" button in the top right hand corner.  Drag your finger left-and-right across the temperature and humidity graph to see the weather forecast updated minute-by-minute. 
Touch a contact's image or status bubble and you'll get what's called the Quick Contacts menu.  From there you can choose how you'd like to interact with that person, no matter what application you're currently using. 
Quickly access recently used applications by touching and holding the Home button. 
Dictate into any text field by tapping on the compose box and then on the microphone icon next to the space bar.  This brings up the "voice keyboard", which is available anywhere you want to enter text such as searching or composing an email or text.  
Navigate is a feature within Maps that uses your phone's GPS capability to direct you to your destination.  Open maps, search for your destination, tap on it, and select navigate.  The app will tell you step-by-step directions to get there. 
Navigate also works with voice search right from the home screen.  Hold down the search button until it invites you to speak now.  Then say "navigate to ..." and your destination.  This also works with category search: try "navigate to pizza."
While on Maps, zoom in or zoom out with our new pinch-to-zoom functionality. You can also pinch-to-zoom in the browser and when viewing photos in the Gallery.
"Applications

First, a few from Google:
Listen - All your favorite podcasts (including "This Week in Google").   
Sky Map - Hold it up to the sky and it shows you what constellations you are looking at. [JF note: this is great]

Translate - A Rosetta stone in your pocket.  Input a phrase in any one of 51 languages, and the app will translate into your language of choice. [This too.]


My Tracks

 - Tracks your route and uploads to Maps or Google Docs.  Great for training. Save your maps and share with your friends!

Google Earth

-

the fastest mobile version of Earth looks great on the high-resolution Nexus One screen.
"And a few from Android developers:
FlightTrack Pro - Get flight status and gate info and live flight tracker maps. Integrated with Tripit to pull your itineraries and automatically populate flight information.
Twidroid Pro - A full-featured Twitter application that can also run as a widget on the home screen (only Android can do this).  
Car Locator with Bluetooth plugin - Innovative use of GPS and Bluetooth capabilities on Android phones to automatically save your parking location when your phone unpairs from your car.  The app uses Google Maps to help you navigate back to your car, and can also send your saved location to another phone.
Trapster - Trapster runs in the background and lets you know of police speed traps and stoplight cameras (as reported by other users) with a spoken warning.  Great for the speedy driver, but be safe! [Not yet tried this, but...]

StarField 3D Live Wallpaper - A simple but stunning 3D starfield Live Wallpaper.  Double-tap to engage warp engines!
TV.com - Videos and full episodes from CBS, The CW, CNET, ET, Show-time, CBS News, CBS Sports and much more!
Plink - Take a picture and find out information about the piece of art you are viewing. Also lets you browse by timeline, movement or gallery within Plink's database which currently knows of tens of thousands of famous paintings. When you find a painting you like, discuss or share it with your friends, or order a print to hang on your wall.
Aloqa - Runs in the background and gives you live recommendations for what to do around you based on your current location and preferences. Available for the US, Austria, Canada, Germany, UK, and Hong Kong.
Where and Open Table - Where helps you find restaurants, movies, and gas stations (and prices) around you.  If you find a restaurant you like, you can go straight from Where to Open Table to make a reservation.
SportsTap - Access sports scores, news, photos, schedules, leaders, etc. from just about any league you can think of. Keep track of your favorite teams by placing the SportsTap widget on your Android home screen. 
Speed Forge 3D - Cool racing game with great 3D graphics, with accelerometer-controlled gameplay.
Shoot U! - Hand-drawing style shooting game with amazing physics: your hand drawings come to life with bridges, springs, joints, and various mechanics.  Customize your own "cannon" and compete for your global ranking.
ToonWarz - A 3D action "first person shooter" where you take control of an army on a death-defying mission behind enemy lines.  Features both single player missions and real-time multi-player "death matches", and now supports multi-touch (aka pinch to zoom).  
Tower Raiders - An addictive strategic defense game that many users are raving about. [Oh sure]

Gem Miner: Dig Deeper - Explore a huge mine to find ores, metals, and gems and make a fortune! 
"Accessories
Vendors are starting to offer a variety of accessories for the Nexus One.  Here are some of them: