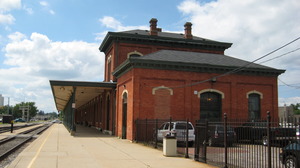 [Gautham Nagesh]
The news this week that the economy
lost 467,000 jobs
in June was a sobering reminder to most of the country that it's unlikely we've seen the bottom of this recession. But here in my hometown of Jackson, Michigan, people are hardly surprised to hear about the loss of manufacturing jobs. It's become a fact of life.
Jackson is in many ways the perfect place to witness first-hand the effects of the economic downturn. Located 80 miles west of Detroit on I-94, the city flourished as a railroad junction during the 1920s before the Depression took hold. Since then the economy has focused on utilities and manufacturing auto parts for the Big Three, which have been in steady decline for the past 30 years. Unemployment hit 14.1 percent in May for Jackson County, the highest figure in a quarter century. Forbes magazine even declared Jackson the
worst small city in America for jobs
in April, an honor that most people around here view as unnecessary piling on.
The latest blow came last month when the local manufacturer Sparton Corp. announced it would be moving its headquarters to Illinois and shuttering the Jackson plant, costing the city another 200 jobs. Local newspaper columnist
Brad Flory
of the Jackson Citizen Patriot told me the company was the city's biggest employer during the Depression and did a lot to help the town pull through tough times.
Withington Community Stadium
where my alma mater Jackson High School plays football is named after the company's original founders.
The closing of Sparton Corp, "says a lot about how 'rust belt' cities must shape new futures" Flory said. "Sparton is quite a loss in many ways, not the least of which is symbolic."
I stopped into Jackson Coney Island, a local institution located just a couple miles from the old Sparton plant, to get a sense for how locals view the plant's closure. Having grown up in the area I'm used to seeing folks respond to dire economic news with a certain Midwestern stoicism. But with two-thirds of the Big Three in bankruptcy court, people have started to see the writing on the wall.
"Sparton was a big loss- many jobs but we've also lost a part of history that we're never going to replace," said Georgia Barnhardt, a lifelong resident of Jackson who had two aunts who worked at the plant during the Depression. Barnhardt and her daughter Paula Ward are used to the job losses and plant closures, but recent events feel different to them.
"Young people are moving out because there are no jobs," said Ward, referring to her own 35-year-old son who was recently put on furlough from his job as a shift supervisor at a local manufacturing plant that supplies auto parts. Orders were too slow, she said, but they hope he will start working again in a couple weeks.
Her mention of young people leaving causes me a twinge of guilt, since I'm probably a perfect example of someone who has fled for greener pastures. While my parents still live and work here, both my sister and I have been forced to leave to find jobs after college. The same is true for the vast majority of our friends from high school. During recent trips home I have even started to notice a disappointing trend of people feeling like they to explain why they still live in Jackson. I'm always quick to tell them that given the right opportunity, I would be happy to join them.
Having had the chance to travel and live in a few different places, I can say with full honesty that I would just as soon live here in Southern Michigan as anywhere else in the world. The state has tremendous natural beauty; if you've seen those Pure Michigan commercials then you have some idea of what I'm talking about. There are two world-class universities within a half-hour drive and you can purchase a nice family home for under $100,000.
But the state's leaders have a long history of ignoring industries outside of manufacturing and the only sector Governor Jennifer Granholm has succeeded in luring to the state during her two terms (via enormous tax breaks) is the film industry. By the way, film industry subsidies are pretty much the worst type of corporate tax break there is. They amount to essentially paying the industry to film in a particular location.
The state is also bracing itself for the full impact of the recent auto bankruptcies. The thousands of former auto workers whose healthcare and retirement benefits were reduced or cut entirely will likely be forced to turn to the state, which is already facing a budget deficit of over $1 billion.
In response, the state senate is cutting a merit-based scholarship program for graduating high school students. It seems obvious that if Michigan is going to attempt to recover from this mess and rebuild its economy, cutting funding for higher education is the worst possible move to make. An excellent group of public and private universities is probably the best economic engine Michigan has at the moment.
The key issue is devising a way to keep college graduates in Michigan, as we currently lose more fresh graduates than any other state. One approach worth attempting is a program in Maine where the state issues tax credits for student loan payments to recent graduates of local universities who remain in-state after graduation. If we're every going to find a way to turn things around in Michigan, keeping our brightest young people in-state is a great place to start.
But there is no easy answer for Michigan, just as there are no easy answers for Ohio,  Indiana, Pennsylvania or the other states dependent on manufacturing. It's hard at times for me to believe that things are as bad as they are, because life seems to continue as it always has and people here tend to make the best of things. Jackson is just one town among many, struggling to hold on to a way of life that people have enjoyed for generations. While stories like the closing of the Sparton plant seem too numerous to count these days, every one represents the loss of something that we may never get back.